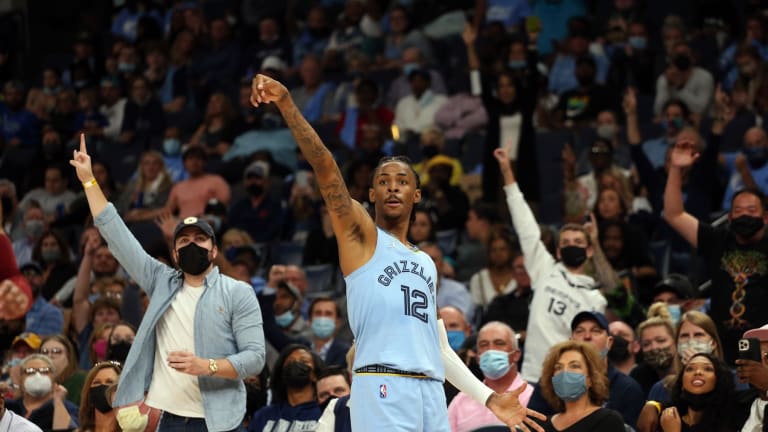 Check Out What Ja Morant Tweeted After His Incredible Performance In The Grizzlies-Clippers Game
Ja Morant sent out a tweet after the Memphis Grizzlies beat the Los Angeles Clippers on Saturday night.
Ja Morant and the Memphis Grizzlies are off to an incredible start during the 2021-22 regular season. 
Last year, they stunned Steph Curry and the Golden State Warriors in the play-in game and advanced to the Western Conference Playoffs where they lost to the Utah Jazz in five games. 
This season they're off to a 2-0 start with wins over the Cleveland Cavaliers and Los Angeles Clippers. 
In the game against the Cavs, star point guard Ja Morant went off for 37 points, six rebounds, six assists and two blocks. 
On Saturday night against the Clippers, Morant once again had a big game scoring 28 points and dishing out eight assists. 
After the game on Saturday, Morant sent out a tweet and the post can be seen embedded below from his Twitter account. 
Morant's tweet said: "building something special." 
If Morant and the Grizzlies keep this up, they will likely make a return to the playoffs and Morant has a chance to make his first All-Star game. 
Related stories on NBA basketball
WOJ SAYS THE NETS HAVE TAKEN CALLS FOR IRVING: Kyrie Irving has yet to play for the Brooklyn Nets this season due to the vaccine mandate and the Nets not allowing him to be a part-time player. ESPN's Adrian Wojnarowski reported on Friday that the Nets have taken calls for Irving. However, he said they have not made any calls themselves. CLICK HERE.
CHECK OUT WHAT STEPH SAID AFTER THE WARRIORS BEAT THE CLIPPERS: The Golden State Warriors are off to a hot start to the new season, and Steph Curry has been sensational through the first two games. Check out what he said after he scored 45 points and beat the Los Angeles Clippers. CLICK HERE.