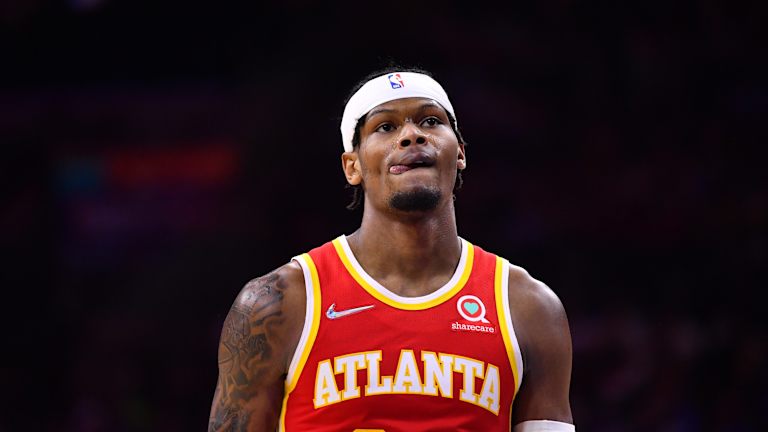 Here's What Cam Reddish Said About Tom Thibodeau
Cam Reddish made his debut for the New York Knicks on Sunday against the Los Angeles Clippers.
The New York Knicks traded for Cam Reddish from the Atlanta Hawks earlier in the month, and on Sunday the former tenth overall pick made his debut for his new team.  
On Saturday, Reddish spoke to the media about his new head coach Tom Thibodeau (see clip below from the Twitter account of SNY's Knicks Videos).     
"He's really competitive, intense competitor, detail-oriented," Reddish said of Thibodeau. "I'm still trying to learn, I really am. I'm still trying to figure it all out."
Reddish had only played for the Hawks during his NBA career, and Thibodeau is his third head coach after playing for Lloyd Pierce and Nate McMillan. 
Thibodeau won the 2021 NBA Coach of The Year Award.  
Reddish played five minutes and had two points and two rebounds in the Knicks 110-102 win over the Clippers. 
Related stories on NBA basketball
DEROZAN PASSES JORDAN ON A LIST FOR THE BULLS: DeMar DeRozan and the Chicago Bulls have been on a roll to start the new season as the top team in the Eastern Conference. DeRozan is a four-time All-Star in his first season in Chicago, and he passed Hall of Famer Michael Jordan on a franchise-record list. CLICK HERE.
STEPH AND THE WARRIORS ARE ON FIRE: The Golden State Warriors have not made the playoffs in two seasons, but that appears likely to change this season. They are on fire to start the season led by superstar guard Steph Curry and have one of the best records in the entire NBA. . CLICK HERE.