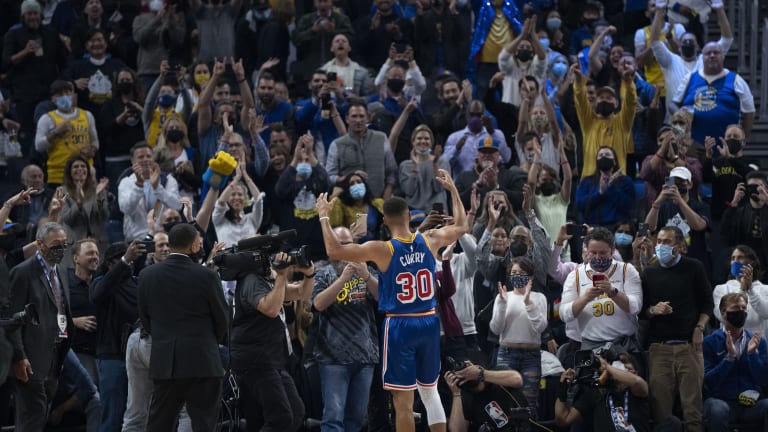 Here's What Steph Curry Said After The Warriors Beat The Thunder
Steph Curry and the Golden State Warriors improved to 4-0 on the new season after they beat the Oklahoma City Thunder on Tuesday night.
The Golden State Warriors improved their perfect record to 4-0 when they beat the Oklahoma City Thunder 106-98 on Tuesday evening in Oklahoma. 
They've now beaten the Los Angeles Lakers, Los Angeles Clippers, Sacramento Kings and the Thunder. 
The Thunder did have a lead at halftime as did all three of the other teams they have faced and beaten this season. 
Steph Curry had 23 points, six rebounds and four assists on the evening, and after the game the two-time MVP spoke to reporters. 
"They had a lot of energy coming out in the first half," Curry said. 
After being down by double-digits at halftime, the Warriors came out in the third quarter and won the quarter 33-17 and finished the second half with an 19-point advantage over the Thunder. 
"Once we just made them work on offense, we got some stops, turned that into transition, the ball started moving a little bit more, guys knocked down some shots and we kinda settled in and carried that momentum into the fourth," Curry said. 
The Thunder have fallen to 0-4 on the new season, and the Warriors will now take their perfect record into a matchup at home with Ja Morant and the Memphis Grizzlies on Thursday night. 
The full clip of Curry speaking after the game can be watched here on YouTube. 
Related stories on NBA basketball
WOJ SAYS THE NETS HAVE TAKEN CALLS FOR IRVING: Kyrie Irving has yet to play for the Brooklyn Nets this season due to the vaccine mandate and the Nets not allowing him to be a part-time player. ESPN's Adrian Wojnarowski reported on Friday that the Nets have taken calls for Irving. However, he said they have not made any calls themselves. CLICK HERE.
WHY IS STEPH NOT IN THE BEST PLAYER IN THE WORLD CONVERSATION? The Golden State Warriors look fantastic to start the new season. The biggest reason they look so good is that Steph Curry is sensational. The two-time MVP looks like he could be making a run at another MVP this season. When they get Klay Thomson back, this team has a chance to make some noise. CLICK HERE.