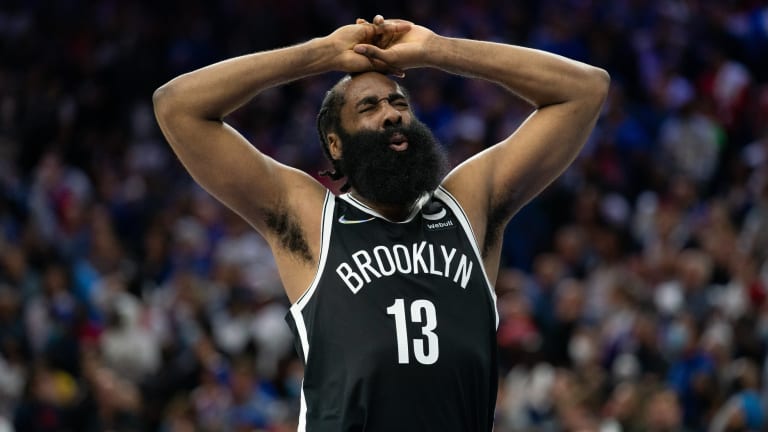 NBA News: Check Out The Photos The Brooklyn Nets Tweeted Of James Harden
James Harden and the Brooklyn Nets beat the Philadelphia 76ers on Friday evening for their first win of the new season.
The Brooklyn Nets picked up their first win of the new season on Friday night when they beat the 76ers in Philadelphia 114-109. 
After getting crushed by the Milwaukee Bucks on the road on opening night 127-124, this was a big bounce back game for the Nets to go into Philadelphia and get a win. 
The Nets posted three photos of James Harden on Twitter after the game, and the post can be seen in a tweet that is embedded below. 
Harden finished the game with 20 points, seven rebounds, eight assists and two steals.
However, he shot just 41% from the field. 
In the first game of the season, Harden also put up good numbers (20 points, eight rebounds and eight assists, one steal and two blocks), but shot under 38% from the field. 
In the win over the 76ers, Kevin Durant had a triple-double and led the team in points, rebounds and assists. 
He scored 29 points, grabbed 15 rebounds and dished out 12 assists. 
Related stories on NBA basketball
WOJ SAYS THE NETS HAVE TAKEN CALLS FOR IRVING: Kyrie Irving has yet to play for the Brooklyn Nets this season due to the vaccine mandate and the Nets not allowing him to be a part-time player. ESPN's Adrian Wojnarowski reported on Friday that the Nets have taken calls for Irving. However, he said they have not made any calls themselves. CLICK HERE.
CHECK OUT WHAT STEPH SAID AFTER THE WARRIORS BEAT THE CLIPPERS: The Golden State Warriors are off to a hot start to the new season, and Steph Curry has been sensational through the first two games. Check out what he said after he scored 45 points and beat the Los Angeles Clippers. CLICK HERE.