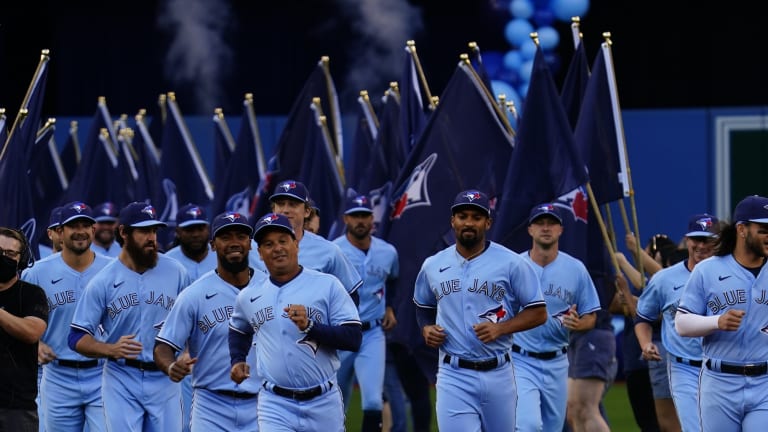 Publish date:
Blue Jays' Return to Rogers Centre Goes Beyond Baseball
After 670 days on the road, the Blue Jays returned home with a 6-4 victory over the Kansas City Royals.
After 670 days on the road, the Blue Jays returned home with a 6-4 victory over the Kansas City Royals.
It was nearly two years in the making.
When the last out at Rogers Centre was recorded in a meaningless Sept. 29, 2019 season finale versus the Tampa Bay Rays, no one could've predicted what would happen next. 
The COVID-19 pandemic began and the world came to a standstill. When baseball resumed, the Blue Jays relocated to Buffalo, N.Y., for all of 2020. Then 2021 started with them in Dunedin, Fla., then back to Buffalo once more. The course of those 670 days brought plenty of uncertainty to players, their families and to a city of Toronto that so desperately wanted its team to come home.
Everything changed in Friday's 6-4 win.
Two hours before game time, a buzz took hold of 1 Blue Jays Way. A sold-out crowd of 13,446 slowly trickled into Rogers Centre as giant block letters across the infield spelling "H-O-M-E" greeted fans. Minutes before first pitch, chants of "Let's Go Blue Jays" rung out as the wall in center field opened up and manager Charlie Montoyo led his squad onto the turf. 
"Today, honestly, was one of my best days in baseball," Montoyo said.
When the jumbotron showed a video montage of Blue Jays fans talking about how much they missed the team, Montoyo said his emotions got to him.
"I had to look down once in a while because I was holding tears," he said. "That's how much I care about Toronto, this nation, about winning and coming back after 670 days."
Bo Bichette said he was also holding back tears as he stood next to Vladimir Guerrero Jr. and Teoscar Hernández during the opening ceremonies. 
"It's hard to explain the feeling. We've just kind of been trying to pretend like we had a home and it's difficult to do for two years," Bichette said. "So when we finally came back here, it feels like definitely a big weight off our shoulders."
By the time Blue Jays starter Ross Stripling's first pitch of the game smacked the mitt of catcher Alejandro Kirk, the Blue Jays' lives as baseball nomads were officially kaput. Baseball was back in Toronto.
From the moment fans entered the park, it became clear this matchup against the Kansas City Royals was far more than a ball game. This was a country welcoming home its favorite baseball team with great affection. The CN Tower shone blue as every out, every two-strike count and every base-hit in Toronto's favor drew a thunderous applause from the home faithful. Blue Jays supporters jeered Royals hitters, shouted "MVP" as Guerrero Jr. stepped to the dish, and when Hernández flipped his bat after a no-doubt home run in the second inning, the building damn near exploded. 
The all-too-familiar home run foghorn bellowed as Hernández's 441-foot solo blast smacked off the third deck in left field. Later in the inning, George Springer laced an RBI double into left center, plating Randal Grichuk. Lourdes Gurriel Jr. added an RBI single in the third.
Three full innings went by before the Blue Jays scored again, but when they did, Bichette put the game on ice. With one mighty inside-out swing, the 23-year-old launched a two-run homer over the right field wall to increase Toronto's lead in the seventh. Santiago Espinal sealed the victory with an outstanding over-the-shoulder bare-handed snag to record the final out of the game. 
On the mound, Stripling went 5 1/3 innings, allowed four hits, two earned runs, walked one and struck out one on 76 pitches. He was greeted with a standing ovation as he walked off the mound.
"That was such a cool experience," Stripling said.
"I'm just so glad that the opportunity fell on me, that it was my turn in the rotation and that I got to start that game," he said. "That'll be something that I'll talk about forever." 
This pandemic isn't over, but for a short moment in time, a sense of normalcy returned. The Blue Jays won, the home crowd left Rogers Centre happy, and, after a long time apart, the bond between the city of Toronto and its Blue Jays was on full display once again.