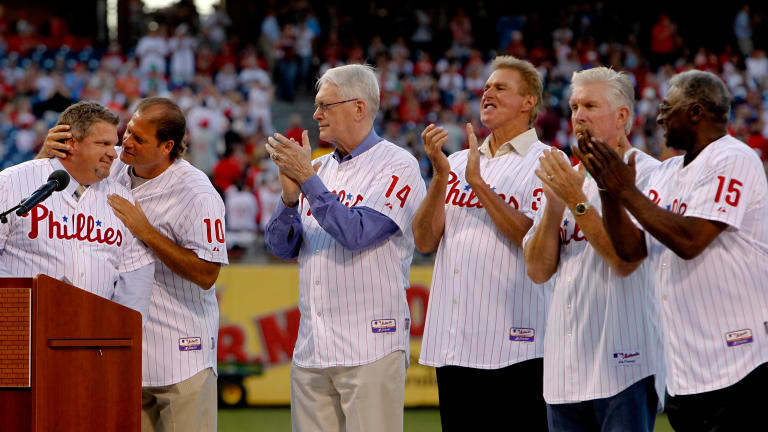 This Day in Phillies History: September 27
Today in Philadelphia Phillies history, a legend is born, Steve Carlton one-hits the Mets, and the Phillies grab the NL East for the second straight year.
September 27th is full of history for the Philadelphia Phillies franchise, whether its the birth of a legend, a wonderful pitching performance, or the Phillies clinching the NL East.
On this day in 1949, Michael Jack Schmidt, better known as Mike Schmidt was born. Schmidt joined the Philadelphia Phillies in 1972, and the rest is history. During his career, Schmidt set several team records that have yet to be broken including, total home runs, RBIs, games payed, and plate appearances. Schmidt played a key role in the Phillies 1980 championship season, grabbing the World Series MVP award against the Kansas City Royals. Apart from these team accolades, Schmidt would receive three NL MVP awards in 1980, 1981, and 1986, as well as being a first-ballot Hall of Famer after being inducted in 1995.
32 years after retiring for Philadelphia, Schmidt is still active with the organization. Currently, Schmidt is a part of the television broadcast team, lending his voice and insight for Sunday home game broadcasts.
Another member of the 1980 World Series team would have another big day on this date. In 1975, Steve Carlton took the mound against Phillies' division rival, New York Mets. Carlton would make quick work of the Mets, striking out nine batters, and allowing only one hit and a run across. Philadelphia beat the Mets in that game, with the final score being, 8-1.
As the season starts to come to an end, and the Phillies are currently in the hunt for the NL East title, it's only fitting to remember that on this day in 1977, Philadelphia clinched the NL East title for the second straight year.
The Phillies faced off against the Chicago Cubs, it was a cool and cloudy day at Wrigley Field but that didn't stop Philadelphia's offense from heating up and scoring 15 runs. The big offensive players for the Phillies that day were Schmidt, Larry Bowa, and Garry Maddox. The game finished with a final score of 15-9 in favor of Philadelphia.
On this day in 2008, the Phillies also clinched the division for a second straight season. Brad Lidge picked up his 41st and final regular season save against the Washington Nationals. Jimmy Rollins helped preserve Lidge's perfect season by making a diving stop to turn a double-play to throw out Ryan Zimmerman for the final outs of the game to defeat the Nats 4-2 and secure the NL East title.
Hopefully, the Phillies can pull some of their former magic in the last leg of the current season as they currently sit two games back from the Atlanta Braves.
---
Make sure to follow Inside the Phillies on Facebook and Twitter!