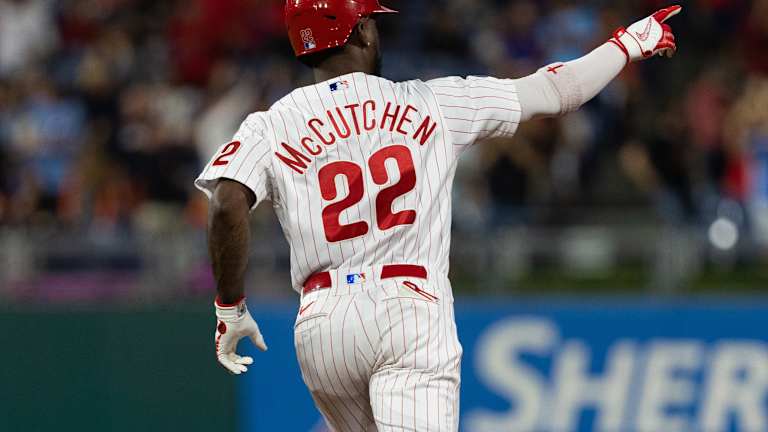 Which Left Fielders Should the Phillies Keep Their Eye on This Offseason?
With the possibility of Andrew McCutchen leaving, who should the Philadelphia Phillies keep their eye on during this year's free agent market?
At the end of the season, the Philadelphia Phillies' front office will have to make up their mind on what they want to do with left fielder Andrew McCutchen. The two options are the team can pick up McCutchen's option for another year which would see him receive $15 million, or turn down his option, making him a free agent on the open market and buying him out for $3 million.
McCutchen's tenure with Philadelphia has been one plagued with productive seasons gone awry. Whether it was in 2019 when McCutchen was producing massive numbers for the Phillies only to have his season cut short due to a torn ACL, or in 2020 when the season was only comprised of 60 games rather than the traditional 162.
If Philadelphia decides to go with the latter of the two options listed earlier, this year's offseason might not fall short on worthy replacements for McCutchen. There could be plenty of options in free agency.
The first target the Phillies will want to look at is Atlanta Braves outfielder Joc Pederson. Weeks before the trade deadline, Pederson got traded to the Braves from the Chicago Cubs in exchange for Bryce Ball. Pederson has a mutual option with Atlanta if either party decides not to activate the option, Philadelphia could try to land Pederson.
Pederson spent seven productive seasons with the Los Angeles Dodgers, where he would help the Dodgers to three World Series appearances, highlighted by winning it all in 2020.
So far this season with the Cubs and Braves, Pederson is batting .232, has driven in 57 runs, and hit 16 home runs. 
These numbers aren't better than what McCutchen has put up this season but one aspect that makes Pederson an appealing option is that he's just 29-years-old. The Phillies could look to lock Pederson down with a significantly longer deal than what they could offer McCutchen.
The next option that Philadelphia could look at is Cincinnati Reds outfielder Nick Castellanos. Castellanos could opt out of his contract with the Reds, which wouldn't see him leaving until 2023, where at the end of the season, the Reds and Castellanos would have to agree to another year.
So far this season, Castellanos has proven to be the second big offensive catalyst for the Reds behind franchise star Joey Votto. Castellanos is batting .309, has scored 86 runs, and hit 29 home runs.
Similar to Pederson, Castellanos is 29, so he is still has a lot of baseball left in him to be played making him another optimal option for the Phillies come this offseason if he decides to not stay with the Reds. However, if he does opt out, he will likely come at a much steeper price than his current four-year, $64 million deal.
Another option that Philadelphia could look at come this offseason is Red Sox outfielder Kyle Schwarber.  
Schwarber was a mainstay in Chicago for many years, which saw him win a World Series ring back in 2016. More recently, Schwarber was traded from the Washington Nationals to the Red Sox this past July.
This year has been quite an action-packed year for Schwarber, he is batting .266, has driven in 70 runs, and has hit 31 home runs. 
All three of the players given could easily contribute the offensive energy that McCutchen has put in over the past three seasons and then some. 
Pederson: .232/.304/.406
Castellanos: .307/.360/.556
Schwarber: .266/.368/.561
Any of these players would make an excellent addition to the Phillies offensive core which already has big hitters like Bryce Harper, J.T. Realmuto, and Rhys Hoskins.
Additionally, if the Phillies decide not to target a free agent to help fill the likely void at left field, they do have some options internally. Alec Bohm could be a candidate, since his offensive potential is tantalizing, but his defensive struggles in the infield has raised the question about his viability in the outfield.
---
Make sure to follow Inside the Phillies on Facebook and Twitter!