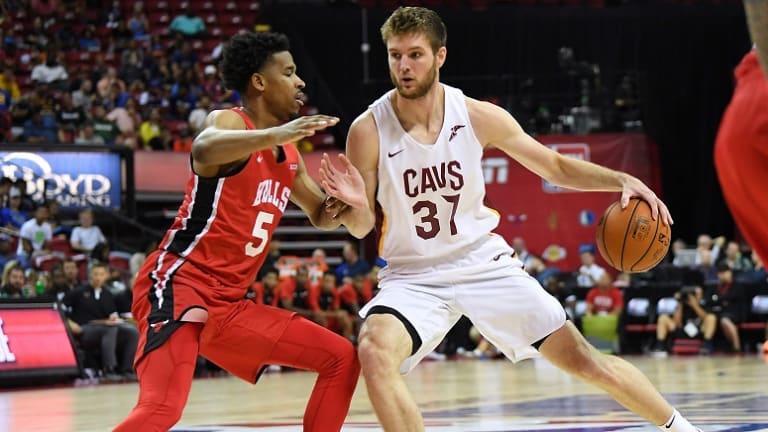 Highest of Hopes Series: Dean Wade
With the Cavaliers season ready to kick-off, what is the highest hopes for Dean Wade this season?
The Cavaliers embark on their newest iteration under new head coach John Beilein for the 2019-20 season with a lot of interesting players on both ends of the experience spectrum. The team's long-term goals are intact: develop the young guys while not creating a culture of losing like they did the last time LeBron James left the team. The Cavs added four young guys in the last two drafts that they believe will be a part of their next competitive team while keeping a few of the veterans that were a part of their previous competitive team.
In our "Highest of Hopes" series, we will take a look at each Cavs player and what is the most that could be expected out of them this season for the Cavs. To do so, we will have to look back at their previous season, understand the team's overall goal as well as how that player fits into the rest of the roster.
Highest of Hopes Series Links
Since we don't know if the team will keep a full roster of 15 guys, few teams do now in the NBA, we will start with Dean Wade, the new DWade, the Cavs two-way contract player. 
Dean Wade
Age: 22
Height: 6'10"
Weight: 228
College: Kansas State
College Stats (Final Season): 12.9 points, 42% 3pt, 6.2 rebounds, 2.8 assists
Draft Information: Undrafted 2019
Last Year: See above stats for final season in college
For Wade, this season is all about development with the Canton Charge and learning Beilen's system. With a glut of big men on the roster and his two-way contract, it is unlikely Wade sees the floor in Cleveland for more than mop-up minutes in blow out games or due to injury.
That doesn't mean that the '19-20 season will be a wasted season for Wade. That the Cavs were so interested in him that they signed him to the two-way deal quickly shows that they are interested in his development. Getting to be with veteran Kevin Love throughout training camp and, at times, during the season, will assist Wade in learning the stretch big man role he's best suited for at the NBA level.
Wade was a consistent contributor at Kansas State for all four seasons averaging over nine points each year and starting all but three of those games. Wade didn't see a ton of minutes, just over 11 a game, this preseason but shot the ball at a 40% clip from long range and 67% overall. He will need to learn how to rebound better for his position, something Love and Tristan Thompson can help with, while learning how to distribute from the high post in Beilein's system.
Highest of Hopes for Dean Wade: Proves he has a future as a rotational big man in the NBA.