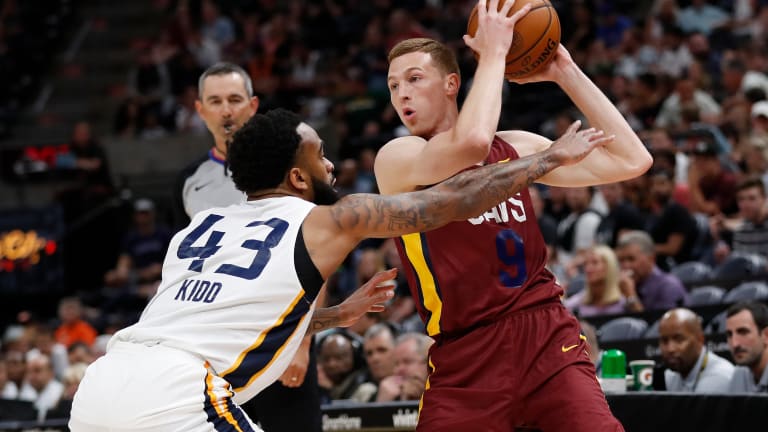 Highest of Hopes Series: Dylan Windler
Almost forgotten due to the Cavs other first-round picks, what is the best we can expect from Dylan Windler this season?
The Cleveland Cavaliers embark on their newest iteration under new head coach John Beilein for the 2019-20 season with a lot of interesting players on both ends of the experience spectrum. The team's long-term goals are intact: develop the young guys while not creating a culture of losing like they did the last time LeBron James left the team. The Cavs added four young guys in the last two drafts that they believe will be a part of their next competitive team while keeping a few of the veterans that were a part of their previous competitive team.
In our "Highest of Hopes" series, we will take a look at each Cavs player and what is the most that could be expected out of them this season for the Cavs. To do so, we will have to look back at their previous season, understand the team's overall goal as well as how that player fits into the rest of the roster.
Highest of Hopes Series Links
Dean Wade
Ante Zizic
Dylan Windler is the least hyped of the Cavs three draft picks this season but was the second one drafted by the team. Windler, like Dean Wade, is an experienced college player to balance out the three one and done players drafted in the past two seasons.
Dylan Windler
Age: 23
Height: 6'8"
Weight: 200
College: Belmont
College Stats (Final Season): 21.3 points, 43% from 3pt, 54% overall, 10.8 rebounds, 2.5 assists, 1.4 steals
Draft Information: 1st Round, 26th overall by the Cleveland Cavaliers
Last Year: See above stats for final season in college
For Windler, his fit with the rest of the Cavs young guys is the key and an important reason he was selected with the 26th pick instead of Kevin Porter Jr., who was selected later as the Cavs traded up to get him. The 23-year-old rookie compliments Collin Sexton and Darius Garland who were both drafted after one year in college.
Windler's traits are clear from college: he has a great deep range shot, a very good rebounder, has good length and athletic ability and leadership. What is uncertain is how those will all translate in the big step up from his playing days at Belmont to the NBA level, especially on a team with few established guys for him to play off of.
Windler's rookie season got off to a bad start with an injury to his left leg that has caused him to miss all of the team's training camp and he will be out for the start of the regular season as well. Much like Wade, Windler's more likely to spend time at Canton when he returns than see his opportunity with the Cavs NBA team.
Opportunity is available for Windler if he returns from injury and shows well in Canton. Currently, the Cavs have Cedi Osman as the team's only "true" small forward and are using shooting guard Jordan Clarkson to soak up minutes at that position. Porter Jr. could see rotational minutes with Windler out early in the season but he was expected to take more time to develop than the older, more experienced Windler.
The team also claimed Alfonzo McKinnie today who is caught between being a small forward and power forward but should compete for some of the minutes at the 3 spot after getting time to acclimate.
With KPJ looking better than expected in preseason, Windler could have a more difficult time finding a niche with the Cavs this year. When he returns, Windler must prove he can shoot from distance with less space available as well as turn his athletic potential into real contributions on the defensive side of the floor.
Highest of Hopes for Dylan Windler: Shows (former Cav) Joe Harris potential two years sooner than Harris did who didn't break out until his third year in the league, with his second team. Scoring 6-8 points on at least 42% from three-point range along with an all-around competent game is the highest of hopes for Windler in his (delayed starting) rookie campaign.