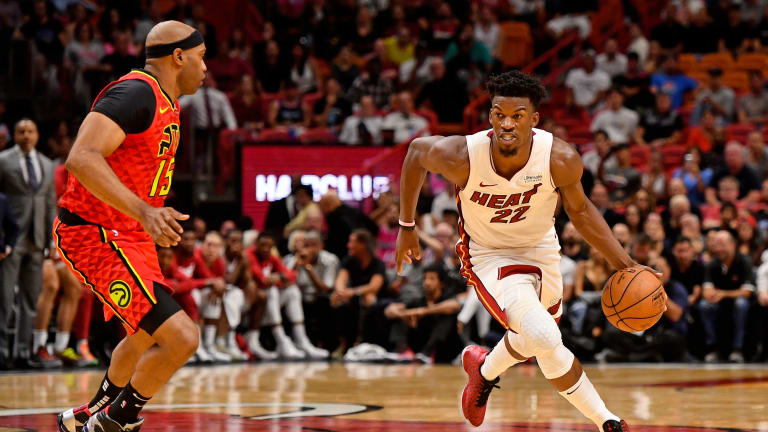 Game Preview: Miami Heat
Without Trae Young, the Hawks must find a reliable source of offense against Miami's imposing defense.
The front end of a home-and-home series between the Hawks and Heat ended poorly for Atlanta, not only because it lost, 112-97, but because it lost Trae Young in the process. The point guard will reportedly miss roughly two weeks with a sprained ankle, and the Hawks must find a way to solider on in the meantime. Though they'll have more time to scheme around Young's absence, Atlanta, having no real backup point guard, will be at a loss for playmaking without him. It should be better equipped to battle the Heat's unrelenting defense than it was in the final 37 minutes of Tuesday's contest, but not by much.
Any effort to stop the Heat starts with Butler, and the Hawks will likely give De'Andre Hunter the primary assignment with Cam Reddish and DeAndre' Bembry getting chances as well. As he did in the first meeting between the two teams, Butler will provide an important challenge for Hunter and Atlanta's back-line defenders, who will need to work in tandem with on-ball defenders to take away Butler's looks at the rim. But without Young, Atlanta simply might not have the firepower to consistently penetrate the Heat defense. Another shooting performance like Tuesdays would all but ensure they fall short.
Miami, as currently constructed, might be the most unconventional mix of players in the NBA that actually works. They lack a traditional point guard in the starting lineup, but most every player has size and can handle the ball and defend multiple positions. Goran Dragić will see plenty of time (29 minutes per game through his first four games), but bringing him off the bench allows Butler room to isolate and run pick-and-rolls while bolstering the defense. Center Bam Adebayo might be the quickest player on the team, with impressive vertical explosion that allows him to snare rebounds and protect the rim.
Justise Winslow is a dynamo – an omnipositional defender with the ability to bang in the post, slide over screens, and mirror his man's every step – and perhaps Miami's most important connective player. The forward has played nearly 38 minutes per game through four games – a load typically reserved for star players – and gives the Heat flexibility on both ends of the floor. He'll initiate plays on offense or spot up around Butler and his ability to defend all five positions allows Erik Spoelstra to play small or big lineups without losing much on defense.
The Heat's positional irregularity in the starting lineup poses matchup problems for teams that start more traditional units, but without Young the Hawks will be better suited defensively to counter Miami's size and strength (offensively, they'll miss their point guard tremendously). Atlanta could start Bembry or Kevin Huerter in Young's stead; given Bembry's superior defensive versatility and Huerter's minutes restriction, the safe bet would be on Bembry, with Huerter effectively running the point on bench units. They'll likely try to involve John Collins as much as possible, but Miami will be prepared after seeing the damage he did in the first game. That will force the Hawks to move the ball and spread playmaking responsibilities between several players rather than just one – all against a team that will demand clean, disciplined basketball.
What success Miami has seen since the end of the Heatles era has been a result of wearing opponents down. The offense is methodical and the defense taxing, and with a top-15 player in the fold once again, the Heat have a reliable source of creation at the end of games or when possessions get stuck in the mud. Butler places certain constraints on his teams, but he's mostly proven worth the trouble for his ability to change the game on either end of the floor. After he missed the Heat's first three games on paternity leave, the Hawks got to feel Butler's force in his first game back.
Butler will almost certainly finish the season as Miami's leading and most consistent scorer, but while the Heat lack a second star, they are flush with threats throughout the rotation. Dragić could pick-and-roll his way to 25 one night while Herro pours in 29 the next – all as Butler provides his steady, methodical punch. But when those support players can also be prone to off nights, and if they all go cold simultaneously, Miami's offense tends to run out of gas. The Heat ranked 26 in offense last season – just below the Hawks – and even Butler won't be enough to singlehandedly lift them above league-average.
In this game, however, he might be enough to lift Miami over the top against a team that simply lacks a good counterpunch. In slow, laboring games, it helps to have a singular talent that can pull his team through dry spells. Atlanta just lost that player, while Miami's is only heating up.