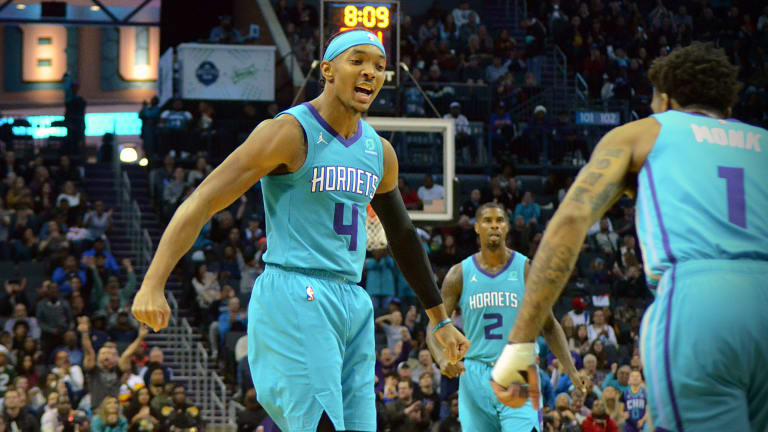 Devonte' Graham's game-winner pushes Charlotte Hornets past New York Knicks
Graham scored 29 points and hit a career-high nine three-pointers to give the Hornets their second-straight win.
Graham scored 29 points and hit a career-high nine three-pointers to give the Hornets their second-straight win.
Some said he had the guts of a cat burglar. Some said he had ice water in his veins. Choose whatever euphemism you want for someone having loads and loads of confidence in a clutch moment -- Devonte' Graham had all of it Saturday night against the New York Knicks.
Down two points at Madison Square Garden with 6.2 seconds left, P.J. Washington caught the inbounds pass for the Charlotte Hornets from Nic Batum. When two defenders closed in, he tossed a low bounce pass to Graham, who was trailing and approaching the top of the key. Graham caught the ball, planted, jumped and fired a shot over Frank Ntilikina.
The ball fell through the net with 2.3 seconds left. The Knicks couldn't muster up a response at home and the Hornets -- for the second straight time -- won a game at the death, leaving New York with a 103-102 victory.
Graham's three-pointer was his ninth of the night, which is a career-high for him. In fact, the only other player in the NBA to hit nine shots from behind the arc in a single game this season is James Harden, who did so for the Houston Rockets on Nov. 9.
It was the third consecutive start for Graham, the second-year guard out of Kansas. He finished the game with 29 points on 10-of-19 shooting. He also collected four rebounds and two assists. Graham is now third in the league in three-pointers made with 46, a mark that trails only Kemba Walker and Harden.
With the win, the Hornets are now 6-7 on the season, and 4-1 in games decided by three points or less.
Let's take a look at Graham's game-winner from a few angles...
Reactions
Notes
After missing 11 games with a broken left middle finger, Nic Batum returned for the Hornets, totaling three points, nine rebounds, six assists, one steal and one block in 29 minutes off the bench. His rebounds, assists and plus-minus rating (+18) led the Hornets.
P.J. Washington was second on the team in scoring with 19 points. He also had five rebounds, three assists, one steal and one block.
The Hornets trailed by as much as 15 points vs. the Knicks.
Dwayne Bacon (right knee soreness) was active Saturday night, but did not play.
The Hornets committed just 10 turnovers in the win, a season-low.
With Cody Martin and P.J. Washington, the Hornets are the only team in the NBA with two rookies averaging at least a steal per-game.