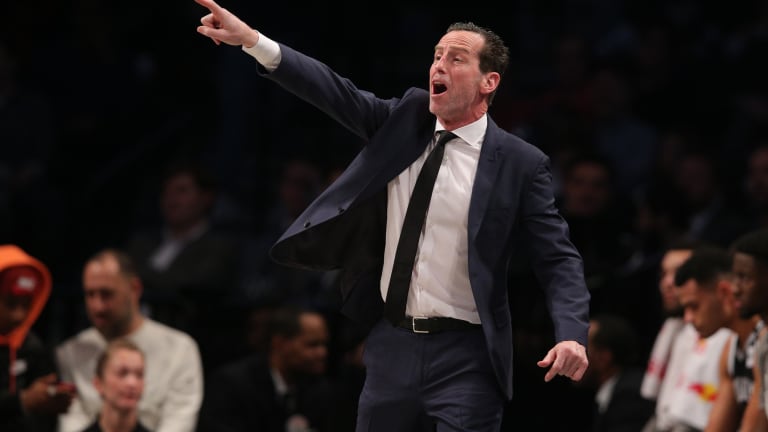 Lakers: Insiders Provide Scouting Reports on LA's Head Coaching Finalists
Eric Pincus of Bleacher Report listed the strengths and weaknesses of the three candidates for the Lakers head coaching job.
On Friday, reports surfaced that the Lakers have selected the three head coaching candidates that have advanced to the final round of interviews.  Terry Stotts, Darvin Ham, and Kenny Atkinson will meet with the Lakers front office, led by general manager Rob Pelinka, in Los Angeles.
The Lakers roster, headlined by LeBron James, Anthony Davis, and Russell Westbrook, presents plenty of upside, but also, plenty of complexity. 
Bleacher Report's Eric Pincus wrote an article chock full of insights and thoughts about each of the three candidates. 
Darvin Ham - "The Best Fit"
First and foremost, Pincus included a nugget from a source that stated that Ham "the guy Lebron wants" in his write up. In addition to reportedly being LeBron's preferred choice, Pincus believes that Ham has the right mix of assistant experience and league-wide respect.
"The Lakers may be willing to take that leap of faith because Ham spent two years with the organization. His personality isn't easily forgotten. Ham brings a lot of energy to a gym. He's arguably the best fit for the locker room, with veterans like LeBron James, Anthony Davis and possibly Russell Westbrook in need of a coach they can relate to and respect."
Even though Ham doesn't have any head coaching experience, The Athletic's Jovan Buha reported on May 12th that the Lakers are "strongly considering the upside of a rookie head coach".
Terry Stotts - "Safest Decision"
Of the three candidates, Stotts has the longest head coaching resumé. After head coaching stops in Atlanta and Milwaukee, Portland hired Stotts in 2012. In nine seasons with Portland, Stotts compiled a 402-318 record with his Blazers teams making the playoffs in eight-consecutive seasons.
Pincus notes that the knocks on Stotts are that he failed to make adjustments, especially on defense, to push the Damien Lillard-led Blazers over the top.
"He's a high-level offensive coach who can get the most out of whatever talent he's given. Fewer raved about his defensive acumen, though some pointed at Portland's undersized backcourt and a non-switchable center in Jusuf Nurkic as roster deficiencies."
Pincus also noted that there's varying point of views as to why Portland only made on Western Conference Finals during the Stotts era.  
"Does Stotts get dinged because Portland didn't win a title over that span? One argument is that Stotts had a roster that was never as balanced or deep as other top Western Conference rivals. Then there is the opposite take: He couldn't adjust enough to push his team to the ultimate goal."
Kenny Atkinson - "The Wild Card"
On Saturday, a report surfaced that Pelinka had recently met with Nets GM Sean Marks. Although the news kicked up plenty of rumors about the Lakers potential interest in acquiring Kyrie Irving, it's much more likely that Pelinka was gathering more information about Atkinson's time as Brooklyn's head coach. 
Atkinson and the Nets parted ways back in March of 2020 after hiring the coach back in April of 2016.
Pincus believes that Atkinson's fiery nature could cut both ways in the Lakers locker room.
"He also has a reputation for being a bit headstrong or rigid in personality. He's going to demand respect, but he's going to need to clarify precisely why he and the Nets divorced in-season. Is he the right coach for star players with strong personalities like James?"