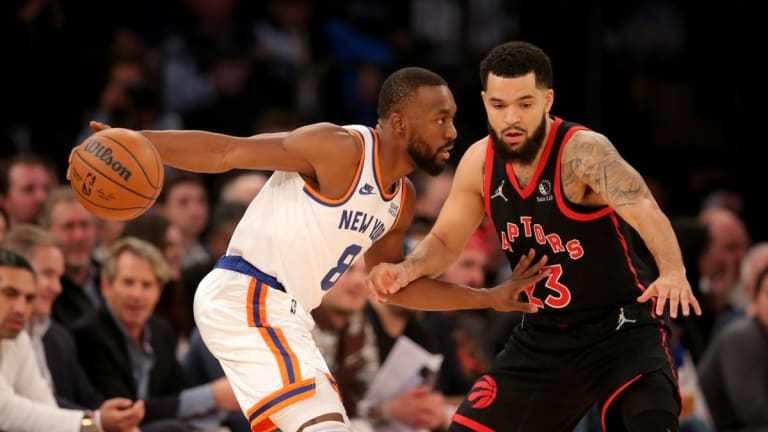 OG Anunoby Stars as Raptors Shock Knicks With Come From Behind Victory
Toronto Raptors outshoot and outwork the New York Knicks in a shocking come-from-behind victory thanks to a career night from OG Anunoby
There was a look of surprise on Toronto Raptors coach Nick Nurse's face as he read over the box score from Monday night's 113-104 victory over the New York Knicks.
Knowing Nurse, it couldn't have been the career-high 36 points from OG Anunoby that shocked him. It's not that Anunoby's 13-for-27 shooting night and total takeover for the Raptors wasn't impressive, it's that Nurse doesn't care so much about any one player's offensive performance. Instead, he was looking at the lopsided shot disparity that favored the Raptors, who outshot the Knicks 99 to 76, thanks to two other numbers Nurse obsesses over, 16 forced turnovers, and 13 offensive rebounds.
Those numbers are gold in the NBA. The analytics suggest teams who outshoot their opponents by five field goals have a significant edge, Nurse said last week. So Nurse has made that the goal for this team this season, force turnovers, grab offensive rebounds, and do whatever it takes to get at least five more shot attempts up than the opponent.
The shooting disparity allowed Toronto to hang around in the first half despite being outshot 52.6% to 31.2% from behind the arc. Once Toronto's defense ramped up in the second half, the Knicks cooled and the Raptors rode Anunoby, Gary Trent Jr, and Fred VanVleet to the surprise victory.
Anunoby Sets Career High
Almost everything that could go wrong for Toronto in the first half did go wrong. The Raptors couldn't get out to shooters fast enough and the Knicks jumped out to a 15 point lead in the second quarter. If not for Anunoby, it would have been too much to overcome, but the 24-year-old forward has turned into The Guy for Toronto as of late. He's bounced back from a disappointing first two games of the season and has now averaged 22.8 points on 46.4% shooting with lockdown defense over the last six games.
"Probably just adjusting to how I'm being guarded. Watching film. Knowing what people are going to do, if people are going to double. And then just reviewing shots, seeing if I'm rushing it. Just taking my landing. Just reviewing the film," Anunoby said of the adjustment.
His 19 first-half points saved Toronto early. He and Trent helped spark a 24-13 run in the second quarter, to pull the Raptors to within just four heading into the break. When the second half rolled around, Anunoby provided the knockout punch, nailing a pair of three-pointers and connecting on a beautiful alley-oop slam from VanVleet.
Precious Benched in 3rd
Precious Achiuwa broke the cardinal rule Monday night. After going end to end for an ill-advised layup attempt in the second quarter, Achiuwa doubled down, twice trying to go at Mitchell Robinson and Julius Randle for a pair of nowhere-close layup attempts. It was the continuation of a worrisome trend from the 22-year-old who continues to be too aggressive taking contested shots rather than passing out and trying to facilitate for others.
"He's just a little out of character these last couple games, just doesn't quite have it going on either end," Nurse said. "He'll be all right, we'll get to work a bit and refocus a little bit."
His inability to score, shooting 1-for-6 in the first half coupled with his rebounding deficiencies against Robinson forced Toronto to turn to Khem Birch for most of the second half. For the second straight game, Birch provided a stabilizing force off the bench. He didn't pack up the scorer's sheet with just six points and eight rebounds, but his defense, rebounding, and screen setting were crucial for Toronto down the stretch.
"I feel like the perception just because of last year I averaged a lot of points people think I'm having a down year or whatever but I feel stress-free," Birch said. "I've always been a guy who just wants to make winning plays, I don't care about the box score. Now that I'm here, I got my contract, I can show that I can just make winning plays and some nights I might have four points, some nights I might have 10. So I'm just happy I've been able to be stress-free this year and contribute to wins."
Birch is still trying to come back from COVID-19 and he's not at 100%, he says, but he's good enough to be starting over Achiuwa, at least until the struggling sophomore can get back in his groove.
Svi Starts
With Scottie Barnes sidelined due to a right thumb sprain, Nurse bumped Svi Mykhailiuk into the starting lineup. It wasn't all that surprising considering how much Nurse likes keeping his bench units together. He didn't want to break up Dalano Banton, Chris Boucher, and Khem Birch, and therefore starting Mykhailiuk was the obvious choice.
Mykhailiuk had 15 points, five assists, and five rebounds.
Up Next: Washington Wizards
The Raptors will have the day off before taking on the Washington Wizards on Wednesday.