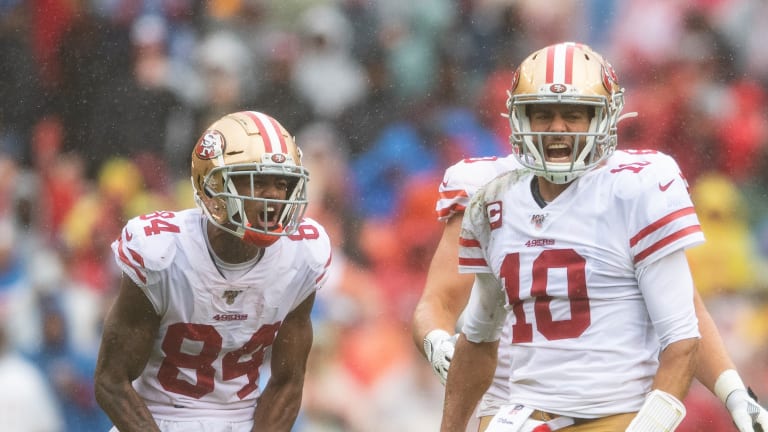 San Francisco 49ers have Cemented Themselves as Super Bowl Contenders
Still undefeated at 7-0, the San Francisco 49ers have cemented themselves as Super Bowl contenders.
Are the San Francisco 49ers still being viewed as "pretenders"? Being able to open a season at 7-0 is definitely not something "pretenders" would do regardless of who their opponents are.
The 49ers just completed another dominant victory over a good football team in the Carolina Panthers 51-13. Carolina had two weeks of rest and preparation on the 49ers, yet they were still blown out. With another convincing win, the San Francisco 49ers have cemented themselves as serious Super Bowl contenders.
San Francisco is just too talented and too well-coached to not make a serious run. This is a team that is hard to nitpick about. Their weaknesses are not clear cut and even if teams are able to expose them, the coaches will just adjust to mask it. It's why Kyle Shanahan should be viewed as the lead candidate for Coach of the Year.
The guy is just a mad genius. Every game this season, he has dialed up methodical drives. Defenses have been hard press to slow this group down and we witnessed it again today against the Panthers. The star of today's game on the offensive side of the ball was running back Tevin Coleman who notched over 100 yards rushing and four total touchdowns.
Fantasy football owners are rejoicing over their decision to start Coleman in their lineups. So are the ones that started the 49ers' defense, who once again has kept an offense under 20 points. Robert Saleh has this group rocking and rolling, it is hard to see them being gashed by any other team. 
Kyle Shanahan isn't the only person on this team that deserves to looked at for a season award. Nick Bosa is more than deserving of, not just a Rookie of the Year award, but Defensive Player of the Year.
We have been waiting for Nick Bosa to have his breakout game and he saved it for a home game against the Panthers. Three sacks, a hat trick, from Bosa today as well as his first career interception. Bosa has established himself as the 49ers' best defensive player. His impact on the defense is second-to-none. Everything he does effects the defense and completely frustrates opposing offenses. 
How can other teams scheme around this defense? They are just too loaded and with Robert Saleh calling the defense, they are bound for a serious Super Bowl run. The San Francisco 49ers are about halfway done with their season, yet they are still playing as if it just started. It'll be a quick turnaround for the 49ers in week nine as they'll fly to Glendale, Arizona to face the Cardinals on Thursday Night Football. 
Short weeks like this are usually how weaker teams catch the better ones off guard. However, Kyle Shanahan will not allow this team to succumb to this. Thursday's divisional matchup should have the 49ers reeling in another win to remain undefeated.