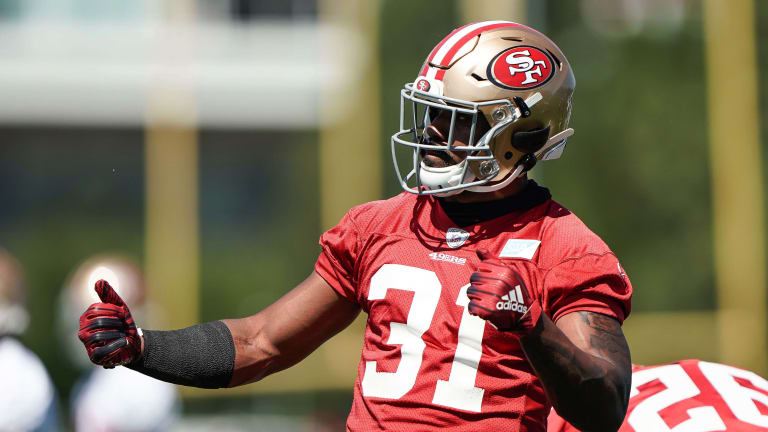 49ers Camp: Raheem Mostert has a chance to shine with McKinnon's absence
Jerick McKinnon's San Francisco 49ers career will remain on pause due to soreness in his surgically repaired knee. With his status still unavailable, Raheem Mostert has an opportunity to fill in as part of the three headed monster at running back. Will he be able to answer the call?
If you feel like the San Francisco 49ers are cursed to have a slew of injuries every year, then you might be on to something. This week alone the 49ers have had players drop like flies including running back Jerick McKinnon who was just activated off the PUP list. McKinnon felt discomfort in the knee he tore an ACL a year ago, so the 49ers will be withholding him from preseason in its entirety.
He was given a platelet-rich plasma injection, which will speed up his recovery. With so many players being held out of the preseason the 49ers are close to building an 11 man squad. These absences will only give way to opportunities for players at those positions like running back Raheem Mostert. Now is the time for Mostert to shine, especially with the possibility that McKinnon will start the season on injured reserve.
Mostert is a key special teams player, but now has a chance to be apart of the three headed monster at running back. It's not like he's short on talent. Mostert can definitely run with the best of them and fits the mold of the system as a pass catching back. Depending on how impressive he looks he may end up being the reason why Jerick McKinnon never plays a snap for the 49ers.
We are going to learn a lot from Mostert over the coming weeks. With the first preseason game tomorrow against the Dallas Cowboys Mostert can put on a showcase. It all starts with this game to see if he'll answer the call. The loss of McKinnon isn't a big hit to the offense, but if Mostert can come close or even replicate his role then the offense will be fully optimized.
Tevin Coleman and Matt Breida are enough to get the job done, but you never know with injuries. Having the depth as a contingency plan will only benefit the team. Plus, it's great to have three talented running backs for Kyle Shanahan's offense. The only question is will he be able to show his worth? Keep an eye on Raheem Mostert to see if he blooms into productive back.