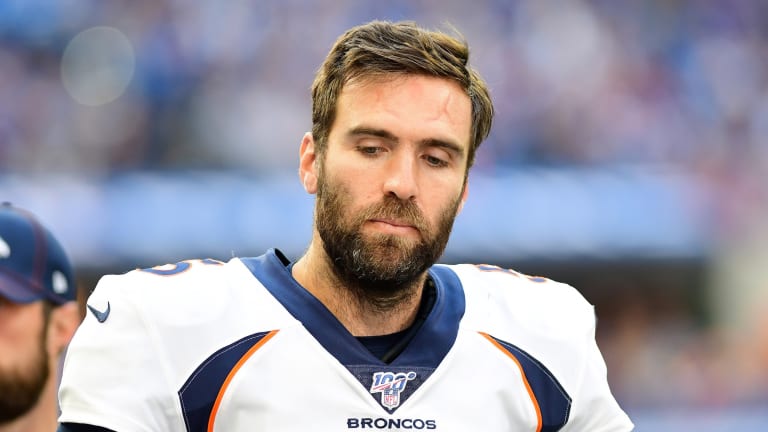 Report: Broncos Expect Joe Flacco to Miss 5-6 Weeks, QB Gets Second Opinion
Joe Flacco wasn't buying what the Broncos team doctors were selling regarding his neck injury.
We learned Monday morning that Denver Broncos quarterback Joe Flacco has a herniated disc in his neck. It's a scary injury and one that has to be handled with kid gloves. 
The Broncos have already announced that Brandon Allen will start in Flacco's place in Week 9 and a recent report from Ian Rapoport suggests the team believes Flacco could miss as many as 5-6 weeks. 
Flacco was somewhat skeptical of the Broncos' prognosis and so he sought that second opinion from Dr. Kelley. However, it's common for players to seek a second opinion when the initial prognosis is less than favorable. 
As Rapoport said, the Broncos have a roster decision to make. If indeed the team believes Flacco will miss the next 5-6 weeks, sitting with a 2-6 record, it makes no sense to hold a roster spot open for him. 
What happens next for the Broncos? Don't miss out on any news and analysis! Take a second and sign up for our free newsletter and get breaking Broncos news delivered to your inbox daily!
The smart move would be to place Flacco on injured reserve, ending his first season in Denver. Not only would that open up a spot on the 53-man roster but it would turn the page on what was a very disjointed offense under Flacco's stewardship. 
Let Denver's trio of young QBs — Allen, Drew Lock, and Brett Rypien — try to make some hay without Flacco's shadow looming over them. Flacco doesn't believe his neck injury is career-threatening but at 34 and on the heels of one of the most impotent QB performances in the first half of the 2019 NFL season, the Broncos will have to consider ending the Flacco experiment. 
If the Flacco trade had resulted in a winning product on the field, the Broncos could justify keeping him around in 2020 at least but with Lock having been drafted high in the second round and the team cruising for a top-10 pick, the writing is on the wall. 
The Broncos will have to eat some dead cap if they move on from Flacco next year. But it's nothing the team can't manage. 
The first step in turning the page from the failed Flacco experiment is placing him on IR. It'll go a long way toward giving this trio of signal-callers the room needed to grow into whatever role the Football Fates have in store for them. 
Flacco's pursuit of a second opinion does nothing to refute the tinfoil-hat theories that the Broncos benched him for speaking out against Rich Scangarello and used what Flacco himself had described as a 'little strain' in his neck after the Colts game as the cover for doing so. The plot thickens, which is why, again, the Broncos would be best served to place Flacco on IR and disappear him from the Mile High zeitgeist for now.  
Follow Chad on Twitter @ChadNJensen and @MileHighHuddle.