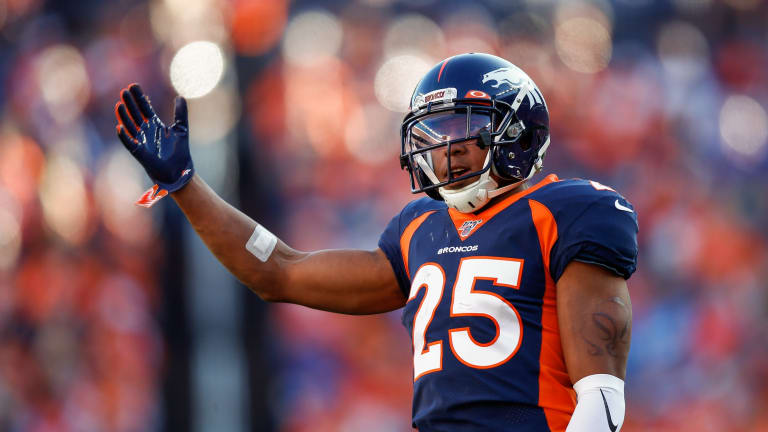 Elway Softens his Tone Publicly on the Topic of Re-Signing Chris Harris, Jr.
So you're telling me there's a chance? The Broncos apparently still have interest in retaining Chris Harris, Jr. post-2019.
Like Lloyd Christmas in the major motion picture Dumb and Dumber, GM John Elway just told Broncos Country that there's a chance Chris Harris, Jr. will be re-signed in 2020. 
The Denver Broncos' front-office czar appeared on KOA radio's Logan and Lewis on Wednesday and aside from addressing the timetable for Drew Lock's return and Joe Flacco's neck injury, Elway also talked about how the trade deadline shook out with regard to Harris and intimated a desire for the team to at least talk to the four-time Pro Bowl cornerback about re-signing at the end of the year. 
"There were some people that called on Chris but we were not interested in what they wanted and what the compensation was," Elway said. "Again, going back to the same thing, if we thought it was the best thing for the Broncos, we'd have done something. But it's best that Chris is still here with us. We're still trying to win football games. That compensation would have had to have been a lot just because even though I know Chris' contract is up at the end of the year, we're still trying to win now. We'll talk to Chris at the end of the year and see if we can get something done at the end of the year." 
The Broncos reportedly were looking for at least a second-round draft pick in exchange for the 30-year-old Harris ahead of Tuesday's trade deadline. Many teams tried, but as Elway said, the Broncos stuck to their compensation demands. 
Elway says the Broncos are "still trying to win now" but more than anything, my interpretation of what he means is that the team knew it would have really been rolling the dice on officially tanking this season if they traded away their only competent cornerback. 
It would have taken a King's Ransom to wrest Harris away from the Broncos mid-season, especially after the team gave him a $3.5 million in-season raise earlier this spring. In his ninth NFL season, the former undrafted free agent has played solidly in the Vic Fangio scheme. Harris is a valuable commodity. 
"Yeah, I like Chris. Chris is a good player," Fangio said on Wednesday. "I think he fits here and I'm glad we still have him."
You bet your bottom dollar Fangio exhaled in relief when that trade deadline passed and Harris was still a Bronco. With there being no end in sight to the Bryce Callahan mystery, Fangio is extremely reliant on Harris in the scheme, especially with a trio of second-year cornerbacks being all that separates the Broncos defense between fielding a respectable product and oblivion. 
What happens next for the Broncos? Don't miss out on any news and analysis! Take a second and sign up for our free newsletter and get breaking Broncos news delivered to your inbox daily!
As it pertains to re-signing with the Broncos in 2020, Harris remains adamant about waiting until year's end to really address it. But one thing we know is, the Broncos won't have the usual tools available to them to leverage Harris into compliance. When the team caved to his hold-out this past spring, they reportedly agreed to a no-franchise tag clause amendment in his contract. 
"Like I said—I've answered this probably 100 times—we'll wait until after the end of the year to make my decision on what I want to do with my future and go with that," Harris said on Wednesday. 
Like us, Harris did at least recognize a softening in Elway's tone on the subject. That's progress. 
"It's a lot better from what I've heard in the past, so definitely," Harris said. "To know that they want me to be here, that's big for me. As a player, you always want to feel appreciated and you want to feel like the work that you put on the field is noted and appreciated."
Harris has eight more games to play out his deal and then the open waters of unrestricted free agency await. He made clear in the spring that he wants to be the highest-paid cornerback in football. 
However, as solid as he's been this year as Denver's No. 1 corner, he hasn't been 'best in the league' good. It'll be interesting to see what type of market awaits him but one thing's for sure, if Elway wants to keep Harris in Denver to be part of a turnaround or mini-rebuild — a la Champ Bailey circa 2011 — he's going to have to be willing to open up the Broncos' checkbook and compete with outside offers. 
Why Elway didn't back up the Brinks truck when Harris held out in the spring and re-sign him to a multi-year extension, I'll never know. The homegrown veteran cornerback is still playing at high level, even if it's not 'best in the league'. 
Follow Chad on Twitter @ChadNJensen and @MileHighHuddle.