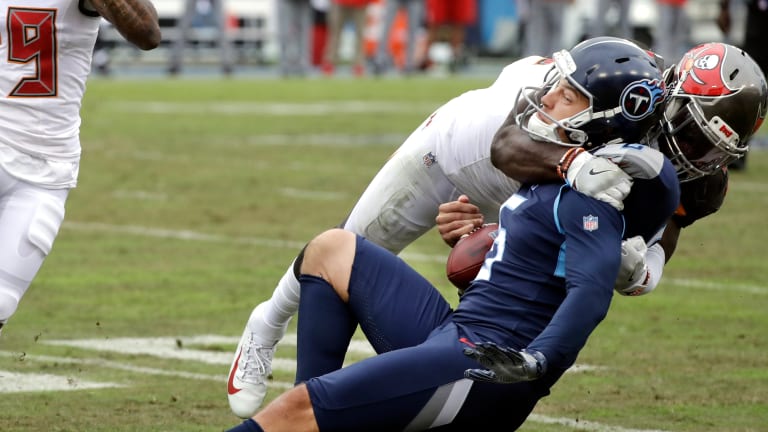 Bucs Robbed of Go-Ahead Touchdown by Quick Whistle
Fumble return on stuffed fake field goal was ruled down by contact.
The Tampa Bay Buccaneers lost their third game in a row Sunday, falling 27-23 on the road to the Tennessee Titans.
There were plenty of mistakes the Bucs made to seal their own fate, but a questionable call in the game's final minutes could have turned the team's fortunes on a huge special-teams stop.
With less than four minutes remaining, the Bucs appeared to hold the Titans to a field goal attempt, down just four points. Instead, the Titans ran a fake, and rookie linebacker Devin White made Tennessee's holder-turned-runner pay dearly, leveling him with a hard hit before he made it to the first-down marker.
The ball fell to the ground, and was quickly scooped up by Bucs safety Andrew Adams, who raced all by his lonesome to the opposite end zone.
Alas, the play was blown dead, as the official nearest to the play had ruled the runner to be down by contact. Even if the play had been challenged or reviewed, because the whistle was blown to end the play, the Bucs could not have been awarded the touchdown. 
After the game, Bucs head coach Bruce Arians kicked off his press conference by voicing his displeasure with the call:
NFL Officiating released the following statement after Sunday's game regarding the play:
The Bucs certainly made their share of mistakes on both sides of the ball, but they made a huge play at a key moment in the game, only to have a would-be game-winning touchdown wiped out by a quick whistle.