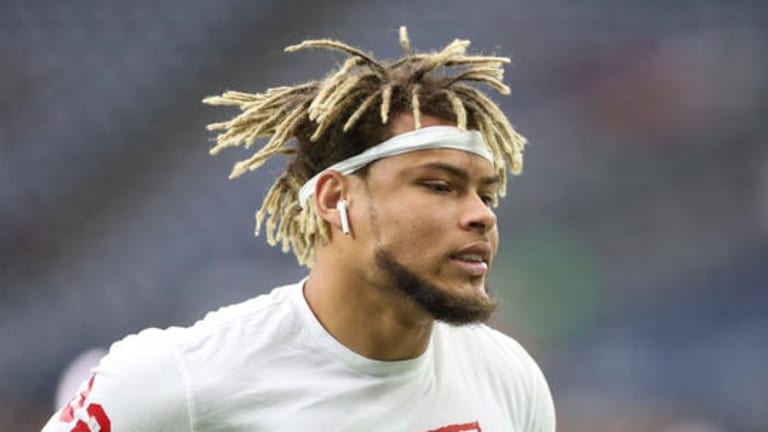 Containing Aaron Jones, Slowing Aaron Rodgers Key for Chiefs Defense vs. Green Bay
Safety Tyrann Mathieu should play vital role in forcing Packers to abandon their comfort zone in the passing game
New Green Bay head coach Matt LaFleur has brought a new wrinkle to the Packers offense, emphasizing the run game a bit more to take some of the load off the shoulders of quarterback Aaron Rodgers
The Packers' offense possesses a talented offensive line that can clear holes for running back Aaron Jones. Jones is great at keeping his feet moving through contact and breaking tackles, and also keeps tacklers away from his body with a well-timed stiff arm.
While the offense incorporates more elements from the running game, the Packers still rely on quarterback Rodgers to guide the offense. Rodgers excels at making good decisions, extending plays with his mobility and throwing accurate passes to his weapons. He loves to attack the defense with deep over routes. Rodgers can devastate opposing defenses with his hard count, getting defensive linemen to jump offsides and giving him a free shot at a deep pass.
One of Rodgers' best weapons, receiver Davante Adams, is doubtful as he works his way back from a turf toe injury. Without Adams, Marquez Valdes-Scantling is the most targeted receiver and serves as the main deep threat for the team. Geronimo Allison works out of the slot and tight end Jimmy Graham is a big red-zone threat. Jones leads the team in receptions, mainly on quick passes in the flats.
Stopping The Packers Offense
With the run game becoming more of a focus in this offensive attack, tackling stands as a big key to stopping this offense. The Chiefs can't afford to give up extra yards with missed tackles if they hope to slow down the Packers. Jones needs to be bottled up on inside runs. Outside zone runs must get stretched to the sidelines leaving him no room to run. The Packers have a tendency to run to the tight end side. Graham shows little interest in blocking, making him a target to drive back in disrupting the run game.
The Chiefs need to get pressure on Rodgers if they hope to slow down the passing game. Tackles David Bakhtiari and Bryan Bulaga are excellent pass blockers, making rookie left guard Elgton Jenkins and right guard Billy Turner the best players on the offensive line to attack in generating pressure. Center Corey Linsley developed a back injury mid-week, making him questionable for the game, and also making the center position one to target with a pass rush. The Chiefs can also use a delayed blitz to get hits on Rodgers and make him feel pressure to speed up his process.
Since Rodgers likes to work the deep over routes, this is the perfect opportunity for Tyrann Mathieu to play to his strengths in coverage as a robber, sitting in the hole reading the quarterback and jumping crossing routes. This should put him in position to make a splash play and potentially get an interception.