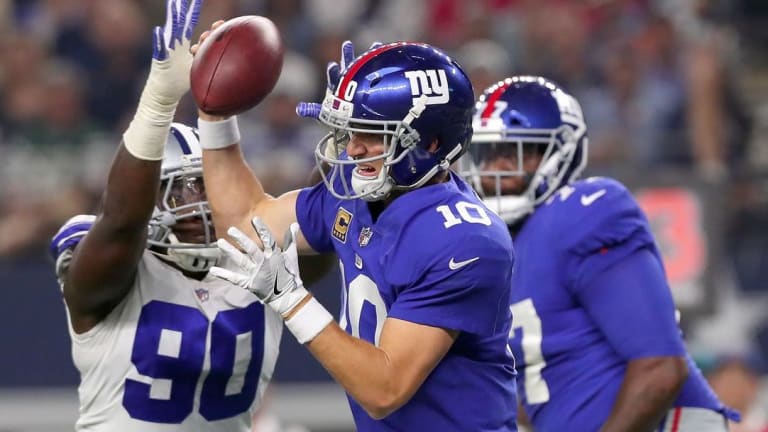 Cowboys Lawrence Pokes and Praises Giants 'Little Eli' QB Daniel Jones
Cowboys DE DeMarcus Lawrence Pokes and Praises New York Giants 'Little Eli' QB Daniel Jones
FRISCO - For a big man, Cowboys defensive end DeMarcus Lawrence is remarkably light on his feet. He's also nimble during his meetings with the media, as exhibited on Tuesday here at The Star when he turned a session meant to bash Giants QBs into one praising them.
Kind of.
"I feel like they did a great job of getting another Eli," Lawrence said, referring to the New York QB Eli Manning, so often the victim of Tank's on- and off-field harassment, before turning his sharp tongue toward Eli's first-team replacement Daniel Jones. "They got another one. They got another 'Little Manning.'''
There is no way Lawrence initially meant that as a hat-tip, even though down deep he certainly respects what Eli Manning has done. Indeed, in a rare moment of Giants-related politeness, he actually said so.
"Eli is probably a soon-to-be Hall of Fame player," Lawrence said. "He won Super Bowls. You can't sit here and say, 'Eli is a bad player.' But age does catch up to us. I guess it caught up to him. They got another one. They got another little Manning, so it'll be good for them."
Lawrence, who spent part of the bye week with his family visiting The Big Apple (he noted how many Cowboys fans he saw compared to how few Giants fans seemed out and about) will on Monday night at New York oppose rookie first-rounder Jones for the first time now that predecessor Manning has been benched.
Lawrence has four career sacks on Manning and has enjoyed tormenting the QB and his O-line. He'll now try to do the same against "Little Manning'' Jones.
"Yhat's what the (Giants) GM (Dave Gettleman) said when he drafted him," Lawrence said. "He was like, 'He was with the Manning family. We like him. He's basically another Eli.' He just couldn't say that in those words. But y'all got it from me.''
Lawrence said more polite things about Jones -- He's got a strong arm, he's athletic. He can be good in this league'' -- before reverting from praise to poke.
"But he's also got to play us twice a year,'' said Tank, who last offseason signed a franchise-high contract to remain in Dallas. "I'm just thankful for the Giants and thankful for the Cowboys for bringing me back."