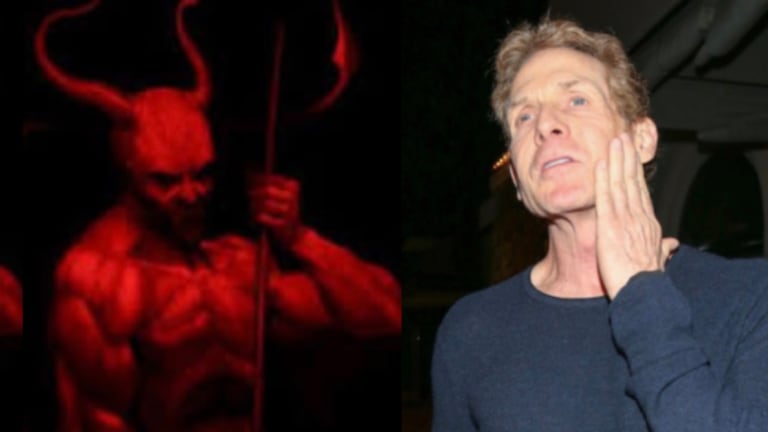 On the Dallas Cowboys, God, and The Devil's co-host Skip Bayless
On the Dallas Cowboys, God, and The Devil's co-host Skip Bayless
HONOLULU - Skip Bayless - The Human Hemorrhoid - via coverage of his cesspool of a TV show, claims, "I have never, ever, as God is my witness, contrived a single debate in a single show.''
Hey, Skip, if there is a Hell for a despicable liar, the Devil is awaiting the arrival of you as his nefarious co-host.
I have a long 30-year DFW-based history of dealing with Skip, for a moment with him offering to be a mentor but for a half-a-lifetime since realizing that Skip Bayless is a loser, a user, a diseased human being. As I write this, I'm supposed to be having a little work-fun in Hawaii ... and I am ...
But I feel it is my civic duty to occasionally note ... Bayless is infamous to many for his own boasting of a brilliant athletic career that actually happened only in the warped cerebrum hovering just behind his cosmetic-surgery-lifted mug. But to those of us who know him? His tragic chase of a buck and his soul-less thirst for fame drives him to conscience-free destruction of innocent people.
Dallas Cowboys figures small (innocuous 1990s receiver Anthony Wright) and large (the deservingly iconic Troy Aikman) are among Skip's victims as he pretends to possess Cowboys "sources." Those of us with inside knowledge of Skip's queer behavior can testify that his last Cowboys whisperer was, like, Dexter Clinkscale.
Skip attempted to offer Cowboys "insight'' just the other day and embarrassed himself by trying to leech onto a legend.
That's a classic example of parasitic Skip.
Oh, and know this: Teaming up with Bayless means you are sleeping with a snake, marrying a fraud, making out with a urinal.
And yes, if you watch Skip and therefore "give him your money," you are getting played by a diseased carnival barker. ... and therefore at the same time you are being victimized, you are part of the problem.
Over the years I've run into a gullible slapdick or two who is willing to support Skip, who is willing to die on that hill.
But gang, that is not a hill you are dying on; the contrivance that is this man's existence is actually a steaming pile of Skip Bayless' feces.