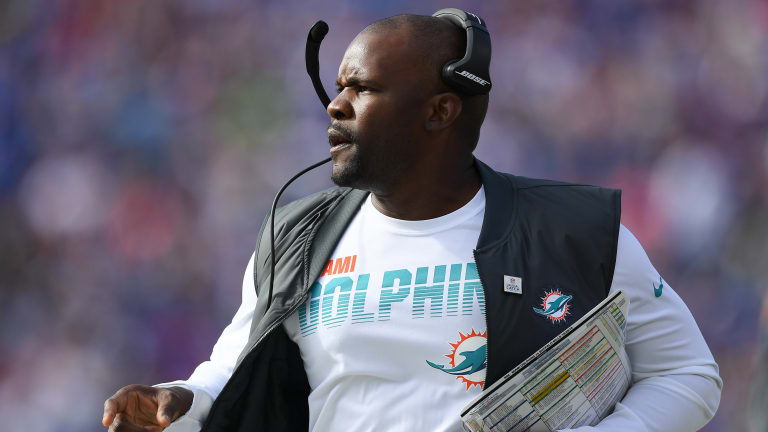 Coaching separating Miami Dolphins from worst of the worst
As bad as the Miami Dolphins are this year, they're slowly starting to trend up. Coaching apparently has a lot to do with their improvement.
The Miami Dolphins did everything they could to deprive the roster of talent for 2019. They traded almost every player with any possible value for draft picks, gearing up for 2020 and beyond. So far, things have gone according to plan. Miami is 0-6 (possibly 0-7 after Monday Night Football) and racing towards the first overall pick.
However, the Dolphins have competition to be the worst of the worst.
On paper, there's no question which of these teams are the least talented. Miami is filled with scrappy young players, but very few are proven. Now, with the recent trade of Kenyan Drake to the Arizona Cardinals, there's even less talent on the roster. How can the Miami Dolphins possibly have any competition to the rights for the first player off the board next offseason?
Simple answer. Coaching trumps talent.
Average players can be coached beyond their alleged limitations. However, talented players who are badly coached end up looking a lot worse than they really are. This is what is happening around the league now.
The Cincinnati Bengals have plenty of talent, but head coach Zac Taylor is not living up to expectations. It doesn't help that veteran Andy Dalton is hindering his team at quarterback more than helping.
The Washington Redskins fired their head coach Jay Gruden, putting Bill Callahan as the interim. Gruden did not want to play rookie QB Dwayne Haskins, opting to put in veterans Case Keenum or Colt McCoy over the owner's wishes.
And of course, the New York Jets, coached by former Dolphins coach Adam Gase.
Enough said.
Bad coaching can ruin football teams, and it really brings into question what the Dolphins could have accomplished if Gase was the coach he was originally advertised as. Could Miami have made it to the playoffs for two consecutive years? The talent was obviously there. But clearly, Gase is not a good coach. He wasn't with Miami, and he's not with New York.
So now Brian Flores takes command of a team with players who have undeveloped talent. Role players fill out the roster, but very few players are easily recognizable. Xavien Howard, Jerome Baker, Reshad Jones, Albert Wilson, maybe a few others. And yet, despite the lack of talent - and their winless record - the Dolphins are somehow trending up.
How is that possible?
Maybe, just maybe, Brian Flores is a good coach, teaching his players how to win in the face of challenges they don't really have the talent to overcome.
"From the first play to the last play and every play in between, they all count." Flores said on Thursday. "So you want to have high execution really on every play, and good communication, because you don't know which one it's going to be that is the difference between winning and losing. I think that mentality, that every play counts and if you dwell on previous plays – good or bad – that will affect the next play. So just having a next-play mentality and an every-play-counts mentality. That's where I would start.
"To me, the next part is there are critical moments in the game. Let's call it critical red-zone possession or a critical third down or a defensive possession after a score. There's kind of critical points in the game. Again, every play counts and every play is critical; but there are critical moments and junctures in a game where as a team, we need to kind of recognize that and play our best football right then."
That is the mark of a good coach. Good coaches take whatever they have and make the best of it. That is also what Bill Belichick has made a career out of. He turns otherwise nameless players and turns them into stars. True, he has Tom Brady to help make ends meet, but there are very few teams who can talk about the 'next man up' mentality, and actually apply it effectively.
Flores isn't there yet. However, the fact that the Miami Dolphins are still competing in games and fighting to the very end to succeed, that's coaching. Flores just might be Miami's next great coach, but it will take some time for the talent to arrive before that judgment can be made. Belichick is successful with Tom Brady, and vice versa.
Wait until 2020 when Flores (hopefully) gets his version of Tom Brady, whoever that may be. Once the QB position has been firmly addressed, maybe Flores can build on what he's doing with the players he has to make do with, and turn the Dolphins back into a true contender. His talentless team is trending up, while talented teams are falling on their face much worse. That speaks volumes.
Luis Sung has covered the Miami Dolphins for numerous outlets such as Dolphins Wire for six years. Follow him on Twitter: @LuisDSung