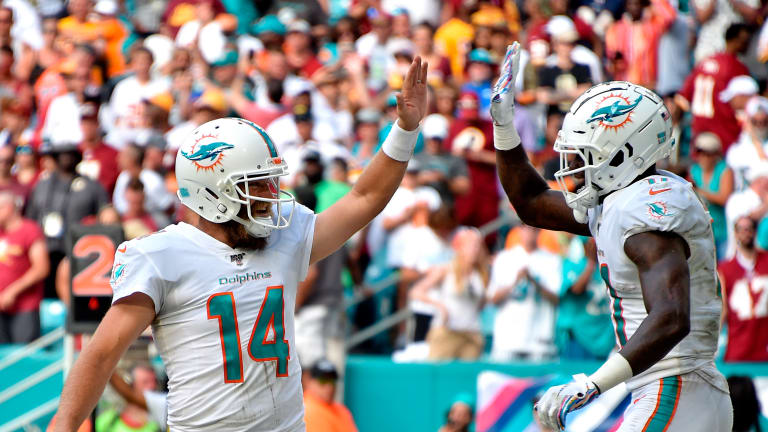 Daily Hunt | October 30 | PT.2 | Dolphins Name QB Ryan Fitzpatrick the Starter vs New York
Brian Flores names Ryan Fitzpatrick the Dolphins' starting Quarterback.
Each and every day, Dolphin Maven brings you the latest news surrounding your favorite football team in a series they call: The Daily Hunt. Join Jake Mendel (@Jmendel94) and Josh Houtz (@houtz) as they bring you the latest on the Miami Dolphins in this award-winning two part series. In today's episode of Daily Hunt: Find the hunters on twitter at Twitter: |@MiaInTheHunt |@jmendel94 | @Houtz |
On today's episode of The Daily Hunt:
After a game where Ryan Fitzpatrick turned the ball over three times on Monday Night Football, some thought Brian Flores might have a decision to make on who the Dolphins' starting QB would be heading into Miami's week 9 match-up vs the Jets. 

Fitzpatrick took responsibility for his mishaps after the Monday Night game in Pittsburgh.
"We've just got to continue to keep fighting," Fitzpatrick said after the loss to Pittsburgh on Monday night. "That's just kind of the place that we're at right now – just continue to keep fighting, continue to keep going to practice and try to get better every single day and then making sure that when we come out on Monday night or on Sundays now, we're just out here enjoying each other and trying to have fun out on the field."
Truth is, if the Dolphins are trying to win football games (which they are) Ryan Fitzpatrick gives the team the best opportunity to do so.  However, if Miami hopes to get the first-overall pick in 2020, they should make a change to Josh Rosen sooner rather than later.
This article was written by Josh Houtz (@houtz)