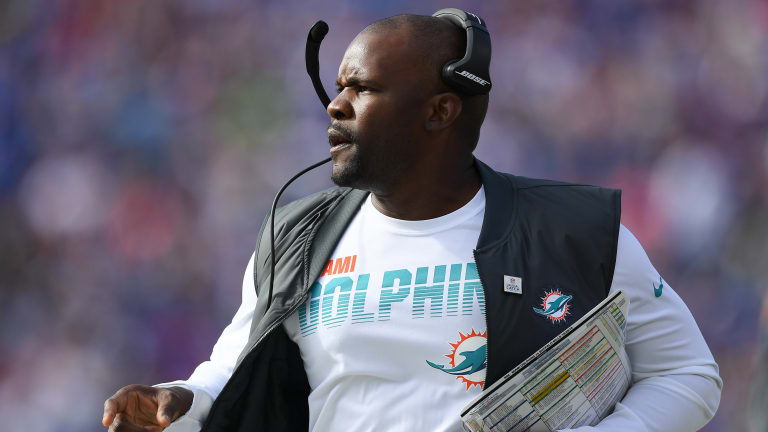 ESPN Football Power Index has Miami as Front Runners for the First Pick of the 2020 Draft
Despite two winless teams in the NFL, ESPN's FPI is projecting the Miami Dolphins to secure the top pick in April's draft.
It is safe to say that 2019 hasn't been the easiest season for the Miami Dolphins, but the front office, coaching staff and fan base is hoping it will pay off in the end. According to ESPN's Football Power Index, the Miami Dolphins have a 70 percent chance at the top pick in the 2020 draft. 
Behind them is the winless Bengals, who have a 17 percent chance according to the power index. 
However, Cincinnati did just announce the benching of Andy Dalton. The nine-year veteran has nine touchdowns and eight interceptions under center for the Bengals. In fact, he is the first quarterback to lead a team to both a 8-0 and 0-8 start. 
Stepping in is Ryan Finley, a rookie who was drafted in the fourth round of the NFL draft. 
Finley will have some help as star receiver A.J. Green is expected to return sooner rather than later for Cincinnati. 
Despite a winless first-half of the season, Miami is hoping the Bengals can go on a run and win a handful of games.
It is important to keep in mind that Dolphins coach Brian Flores has his sights set on wins, not the top pick in the draft. Miami is starting to show signs of a competitive football team, despite the 0-7 record. 
With the Jets looking like one of the worst teams in the NFL, here are Miami's "biggest" games remaining on the schedule: 
Jets at Dolphins, Nov. 3; Dolphins at Jets, Dec. 8; Bengals at Dolphins, Dec. 22. 
It hasn't been the easiest season, but with a little luck, Brian Flores and company can continue to show signs that they're the right crew for the job without ruining Miami's chance at a top pick.