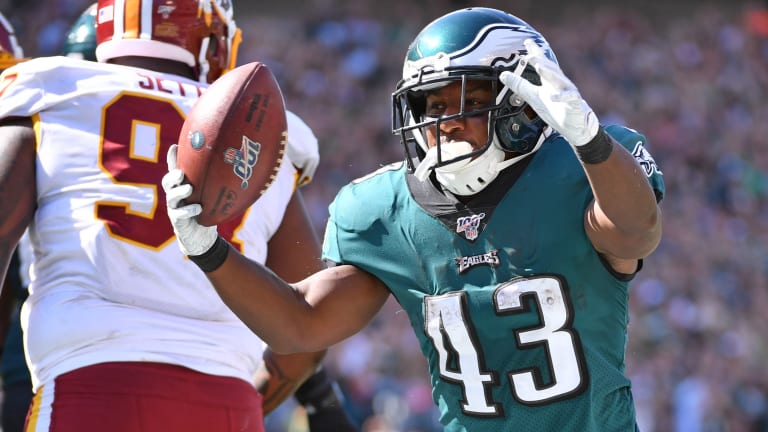 Could the End for Darren Sproles be Coming this Week?
The Veteran RB Moved into 5th in NFL history in All-Purpose Yards on Sunday, but is Hurt, and Eagles Need a Punt Returner; Boston Scott is on Practice Squad
Eagles head coach Doug Pederson was purposely vague when asked who would return punts in Minnesota on Sunday.
"We're going to work a couple guys there this week," said Pederson prior to Wednesday's practice.
The follow-up question was, "You don't know yet?"
Pederson said: "I do."
And that was that.
Earlier in the week, Pederson said that Nelson Agholor and Corey Clement would get reps there. Well, Clement wasn't at Wednesday's practice, and the team did not work on punt returns during the 15 or so minutes the media was allowed to watch practice.
With Darren Sproles sidelined indefinitely with a quad injury, the Eagles need somebody to do it.
They actually do have someone who can do it, but he is on the practice squad at the moment. That player is running back Boston Scott, who spent the last two weeks of the regular season and two playoff games as the kickoff returner.
Should the Eagles promote Scott, they would have to move a player off the 53-man roster.
Certainly one of two offensive linemen Nate Herbig or Matt Pryor could be that candidate, but could Sproles himself be the player who is released or put on Injured Reserve and retire?
Neither notion can be easily dismissed.
The 36-year-old Sproles suffered in his second soft-tissue injury in as many seasons.
Last year, it took him 10 games to recover from a hamstring injury suffered in the season opener. This year, he suffered a quad injury late in Sunday's game against the New York Jets.
Pederson called Sproles' injury week-to-week. There will be 10 games left after the Eagles visit Minnesota on Sunday.
Sproles was going to retire each of the past two seasons, but the allure of landing in the top five of the NFL's all-time leader in all-purpose yards kept pulling him back to the game.
Well, Sproles moved into fifth place on that list against the Jets. He compiled 32 all-purpose yards that gave him 19,684, two ahead of Tim Brown's total of 19,682.
Sproles cannot realistically climb any higher on the list. Emmitt Smith is in fourth place with 21,564 yards. Jerry Rice tops the list with 23,546 yards followed by Brian Mitchell at 23,330 and Walter Payton at 21,803.
The Eagles spoke very highly of Scott's ability during the offseason and in training camp. He is cut from a similar mold as Sproles, at least size-wise, with both players checking in at 5-6, though Scott carries about 10 more pounds than Sproles.
Scott, who is 24 and former sixth-round draft pick of the New Orleans Saints in 2018, probably could give the Eagles a better chance at winning than Sproles at the moment and probably even into the future of the remainder of the season.
It could finally be time for Sproles to ride into the sunset and let the clock begin ticking toward the discussion as to whether or not he belongs in the NFL Hall of Fame.