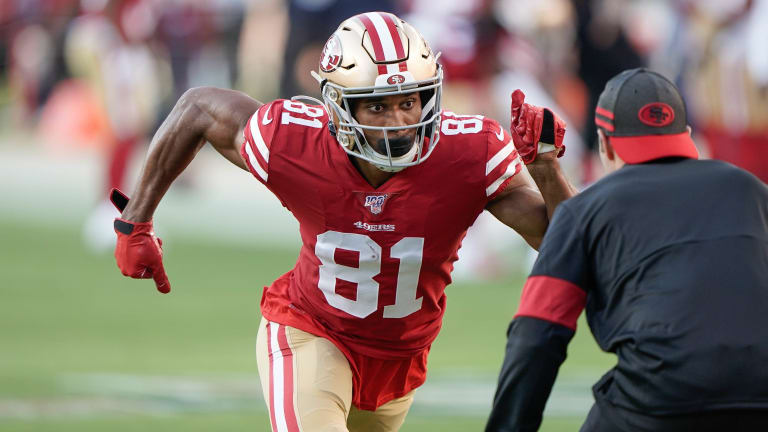 Eagles Should Sign Jordan Matthews
With DeSean Jackson still out and with no timetable on when he will return, the receiving group needs help and the veteran can provide it
For the past three weeks, Eagles coach Doug Pederson has said that DeSean Jackson is getting close to returning. Not sure of the coach's definition of close, but close should be a few days not a few weeks.
It is time for the Eagles find someone who can fill in, since the receivers they have counted on haven't gotten the job done.
That someone should be Jordan Matthews.
Matthews was released by the San Francisco 49ers on Saturday. They have no more use for him after trading for Emmanuel Sanders.
The Eagles could use Matthews.
Jackson will miss yet another game when the Eagles play the Bills in Buffalo on Sunday. He's played just six saps since the season opener and this will be his sixth straight game on the sideline with an ailing abdomen or sports hernia or whatever it is keeping him from doing much of anything except for some light jogging recently off to the side while his teammates actually practiced.
Perhaps the Eagles would have been better served putting Jackson on Injured Reserve when it happened because it sure feels like his best chance to return is after the bye week, which comes after next Sunday's home game against the Chicago Bears. When the Eagles return after the bye week it will have been more than two months since Jackson's injury.
Maybe a stint on the IR would have given the Eagles a chance to find someone who can actually help them overcome the loss of Jackson.
What they have now – Mack Hollins and J.J. Arcega-Whiteside – aren't cutting it and Nelson Agholor isn't really, either, with too much inconsistent play.
So the Eagles should consider it fortunate that Matthews has popped free – again.
Last year he was cut by the Buffalo Bills and two weeks into the season, the Eagles signed him.
Still just 27, Matthews played 14 games, with three starts, and caught 20 passes for 300 yards, which was good for an average of 15 yards per reception. He also had two touchdowns, which is two more than Hollins and Arcega-Whiteside have combined to make.
Matthews, who was drafted in the second round by the Eagles in 2014 and had three very productive years in Philly, could come in and right away be the Eagles' No. 2 receiver behind Alshon Jeffery.
Matthews isn't a No. 2 NFL receiver, but he would be on this team. And that is an indictment on this team's receiver group.