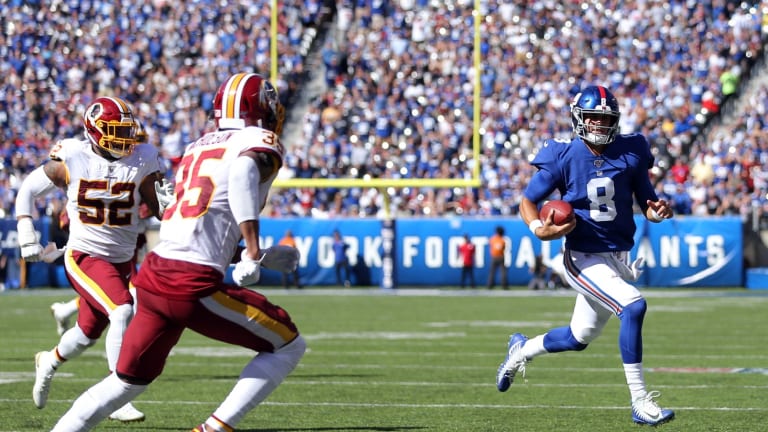 Takeaways from the Giants' 24-3 Win over Washington
The Giants are 2-2 for the first time since 2016 after getting solid showings from both their offense and defense.
The Giants are 2-2 for the first time since 2016 after getting solid showings from both their offense and defense.
East Rutherford, N.J. -- Daniel Jones overcame back-to-back interceptions and stayed the course as he led the Giants offense to 17 points in a 24-3 throttling of Washington.
The "Dan Wagon" made its regular-season debut in front of the MetLife faithful, and Jones didn't disappoint. He completed 23 out of 31 pass attempts for 225 yards, and one touchdown pass to go along with his two interceptions.
The Giants, who were without stud running back Saquon Barkley (high ankle sprain), finished with 164 rushing yards on 37 carries, their highest total of the season.
Contributing to that load were Wayne Gallman (18 carries for 63 yards, one touchdown) and rookie Jon Hilliman (10 carries for 33 yards), both of whom also had a fumble/ each had a fumble.
The Giants defense, which sought to get off to a faster start this week, did just that, holding Washington to three points and 86 net yards int eh first half.
Washington also didn't help its cause by committing nine of its 12 penalties in the first half either, but give credit to the Giants defense, which did a better job getting heat on the quarterback and in covering on the back end.
Here are some takeaways from the win.
1. Daniel Jones and Dwayne Haskins have both been in the NFL the same amount of time, but this game showed just how much further along Jones is than Haskins in his respective acclimation to life in the NFL.
There are many differences, but the most obvious one based on this week's game was is each quarterback's feel in the pocket.
Whereas Jones has shown that he has a feel for the pocket and generally makes the right decisions on when to tuck the ball and run versus moving around until a receiver gets open, Haskins often took too long in deciding where he was going with the ball and hence was late with hitting his intended targets.
And speaking of Jones, how about this Houdini-like play when on a 3rd-and-13 he escaped pressure and scrambled for 16 yards and the first down.
Haskins had, at times, plenty of time to decide where to go with the ball but appeared to overthink things and often got the ball out too late once he did decide where he was going to throw it.
Haskins finished 9 of 17 for 107 yards and three interceptions in his first outing; Jones completed 23 of 31 pass attempts for 225 yards, one touchdown, and two interceptions.
One final thought about Jones. When working from the shotgun, he tends to clap his hands just before the ball is snapped.
Thus far, it doesn't look as though the defense has picked up on that trend, but it will be interesting to see if some edge rusher does take note and uses that habit to time his get-off.
2. Stamp this week's game as safety Jabrill Peppers' official coming-out party as a Giant.
Peppers recorded six tackles (second-most on the Giants), two passes defensed and delivered a big 32-yard pick-6 in the third quarter on a Haskins pass intended for tight end Jeremy Sprinkle from Washington's 22-yard line.
Meanwhile, former Giants safety Landon Collins, who made no secret about having this game circled on his calendar, delivered nine of the quietest tackles you'll see in a game.
He also had some early game issues covering Giants tight end Evan Engram, one play, in particular, being a 3rd-and-2 in the first quarter when Engram beat Collins for a 12-yard gain.
At the end of the game, Collins and Peppers got into a little dustup just in front of the Giants bench. Peppers shrugged it off, saying that the mini melee was "just about football" while Collins refused to comment.
3. I'm planning a little deeper dive into the numbers this week, but of the top of my head, I can't ever remember the Giants under Shurmur being so gutsy with some of their decisions.
On their opening drive, the Giants converted two third-and-longs and a 4th-and-2 as part of an 8-play, 32-yard scoring drive ending in a 6-yard touchdown pass from Jones to Wayne Gallman.
I couldn't help but wonder if Eli Manning was still under center if some of those gutsy decisions made by Shurmur might have been more conservative.
Now that's not to diss Manning, but having a mobile and athletic quarterback under center does have its benefits.
There were plays in which you wonder if Manning had been under center, perhaps the play would have ended in a sack, with one coming in the third quarter when Jones bought some time with his legs while waiting for a receiver--in this case Darius Slayton, to get open.
And in case anyone didn't notice, outside linebacker Ryan Kerrigan, who had 6.5 sacks in his last four games against the Giants, was shut out under the sack and quarterback hit columns this week.
4. Remember how everyone wondered how the Giants offense would change without Saquon Barkley in the lineup?
The answer, at least based on this week, is it didn't.
While Barkley is in a league of his own, the Giants still ran a reasonably balanced offense that consisted of 37 rushing attempts and 31 passes.
The truth is the only thing that changed this week is who got the touches, not the offense itself. Wayne Gallman gained 63 yards on 18 carries and scored a rushing touchdown. He also added six receptions for 55 yards and had a receiving touchdown as well.
This isn't to say that the Giants are better off without Barkley, but what it shows is that the Giants aren't going to fold up the tent and go home just because they're missing one of the key cogs in their offense.
5. The Giants pass rush continued to show signs of life this week, but to the novice who sees only three sacks registered against 28 pass attempts, that might not look too impressive.
This is why sacks tend to be overrated. The Giants defense, playing against a patchwork Washington offensive line, did a much better job of pushing the picket and creating pressure which forced both Case Keenum and Dwayne Haskins to throw the ball earlier than they wanted--and often with favorable results for the Giants.
Here's a perfect example. On Haskins' third-quarter pass attempt to tight end Jeremy Sprinkle, a ball which Peppers picked off, Giants defensive lineman Dalvin Tomlinson bullied his way up the middle of the Washington offensive line.
Tomlinson was able to create pressure and get a hit against Haskins, who ended up rushing the pass by trying to fit it into a tight window. Peppers picked it off and scored, and that was all she wrote.
So yes, sacks are the ultimate desired result, but hits and hurries are certainly nothing to sneeze at, and the Giants defense did a much better job in generating this kind of pressure.
6. I was not a fan of TJ Jones as a punt returner in the preseason as I thought back then that he too often started to run with the ball before actually securing it.
Once he got back to the Giants, he seemed to have cleared up that issue, that is until today when he muffed two punts, again a result of him looking to escape upfield before securing the ball.
If that wasn't bad enough, Jones also fielded a punt inside of his 10-yard line instead of letting it hit and taking the chance that it might roll into the end zone for a touchback.
Jones ultimately was removed from the punt returner role for Jabrill Peppers but was given a second chance in the third quarter where his efforts weren't quite as stressful.
With Golden Tate set to return on Tuesday from his four-game suspension, you can't help but wonder if Jones is going to be on this roster next week.
Injury Updates
Giants edge Lorenzo Carter suffered a neck injury in the fourth quarter and did not return.
Rookie linebacker Ryan Connelly, who had himself a huge game, suffered a right knee injury and was ruled out. He was replaced by Nate Stupar, who was re-signed this week. Connelly injury sucked the energy out of the building.
By the Numbers
The Giants defense now has three interceptions in its last two games against Washington and two straight games in which an interception turned into a Pick-6.
Last year, safety Curtis Riley had a 9-yard interception return for a touchdown in the Giants 40-16.
The Giants converted 62% of their third-down attempts (eight of 13), their highest third-down success rate this season.
Giants Maven Weekly Fan Friday Mailbag
Want to participate in our Friday Fan Day mailbag? Send your questions to us at nygiantsmaven@gmail.com.
Giants Maven Social Media
Follow Patricia on Twitter @Patricia_Traina and don't forget to check out and like our Facebook page.
Sign up for our free newsletter
Sign up for our free newsletter and get breaking Giants news, notes, and more delivered to your inbox!
Can't get enough Big Blue news and analysis?
Subscribe to the FREE LockedOn Giants podcast, your daily podcast featuring all things New York Giants, available on iTunes, Google Play, Stitcher, FM Player and wherever else podcasts are offered.