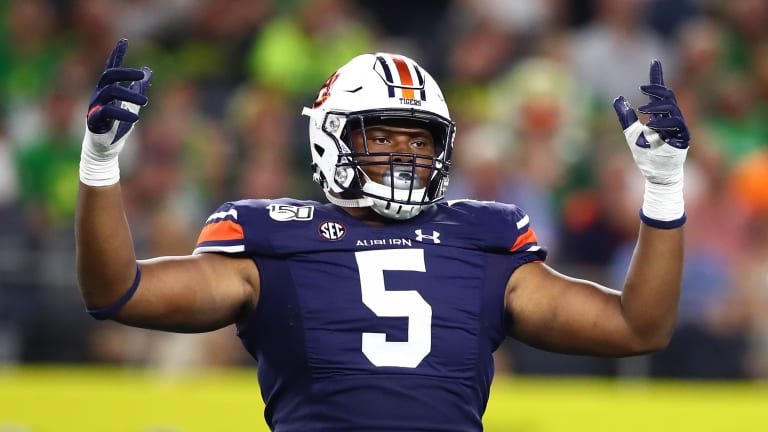 NFL Draft: Defensive Tackle Prospects to Track Following Marcell Dareus Injury
Could the Jaguars be forced to look into top-tier defensive tackle talent this upcoming offseason?
The Jacksonville Jaguars have drafted defensive lineman in the first round in each of the past two NFL Drafts with defensive tackle Taven Bryan selected in 2018 and defensive end Josh Allen selected in 2019. 
And with Marcell Dareus' future with the Jaguars looking shaky due to his 2020 contract and him being placed on the team's injured/reserve list on Friday following surgery on a core muscle injury, the Jaguars might need to consider investing in their defensive front yet again. 
After all, the Jaguars would clear nearly $20 million off of their cap if they release Dareus after the 2019 season. And thanks to their coup of draft picks from the Jalen Ramsey trade, the Jaguars have the draft capital (four first-round picks over next two drafts) to make such an investment at defensive tackle. 
So if the Jaguars do proceed with acquiring a defensive tackle early in the 2020 draft, who are some players to monitor for the rest of the 2019 college football season?
Javon Kinlaw, South Carolina
Kinlaw, a 6'6", 300 lb senior defensive tackle, is one of the most disruptive and physically dominant forces in college football. He has the size and strength to play nose tackle in a one-gap defensive scheme like Jacksonville's, but he also has the burst and ability to penetrate offensive lines that is needed at three-technique. 
Kinlaw will undoubtedly test well at the NFL Combine following the season, and those athletic traits have translated into production on the field. Over the last 17 games, Kinlaw has nine sacks and 14 tackles for loss. That doesn't even factor in the plays like above where Kinlaw's disruption creates an impact that can't be found on the stat sheet. 
Simply put, Kinlaw is a fit for any NFL team looking for a playmaker in the middle of their defensive line. If the Jaguars move on from Dareus after this season, Kinlaw would make perfect sense for one of their first-round selections. 
Raekwon Davis, Alabama
Davis is a lot like Kinlaw in the aspect that he has the size, strength, and athleticism to truly play all along the defensive front. He had an elite 2017 campaign when he recorded 10 sacks, 8.5 tackles for loss and an interception, but he came back down to earth in 2018, recording only 1.5 sack and 5.5 tackles for loss. 
Davis' production thus far in 2019 has been close to his 2018 form than his 2017 form, giving Kinlaw the edge as of now. But if Davis can figure out how to translate his tools into consistent production, then the sky is the limit.
Thankfully for Jacksonville, their coaching staff has shown a real talent for developing interior lineman over the last few years. As long as that staff remains in place, it is one that has earned the benefit of the doubt when it comes to project players. 
Derrick Brown, Auburn
Senior defensive tackle Derrick Brown has been a force in the SEC for years and has let his name be known on the primetime stage time after time again with big-time performances against Washington in 2018 and Florida in 2019. The 6'5", 320 lb Brown is probably the player most similar to Dareus amongst these three, and when you watch him it is not hard to see why. 
From his physical tools to his never-ending motor, Brown is the epitome of what an anchor in the middle of a defense should look like. His production has matched the hype too, as he has three sacks and four tackles for losses through seven games in 2019. 
Brown would be the ideal plug-and-play replacement for a departing Dareus. He has played in a similar role at Auburn that Dareus does for Jacksonville, and he has done it at a high level. He may not have the supreme upside of Kinlaw and Davis, but do not confuse that for thinking he is a low-ceiling player. Instead, he is just the kind of prospect who can help a team from day one while still having room to develop into a top-tier level defensive tackle.