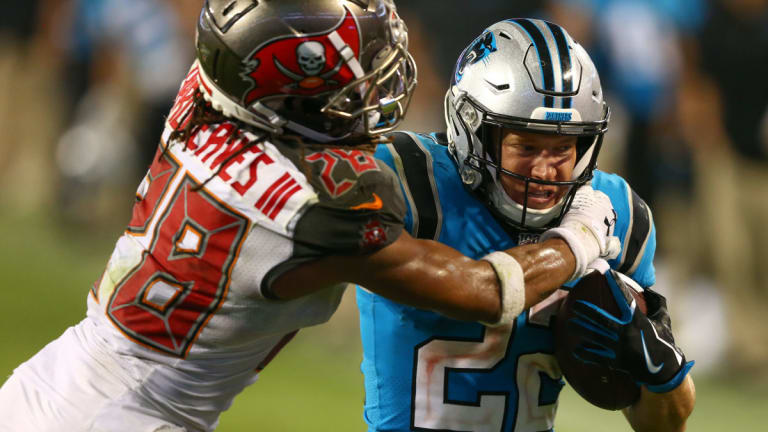 Jaguars preparing for the "very unique challenge" that is Panthers RB Christian McCaffrey
The Jaguars are facing one of the toughest challenges they are going to see all season in Christian McCaffrey
When the Jacksonville Jaguars (2-2) take the field against the Carolina Panthers (2-2) in Charlotte this Sunday, they know who the one Panther player is that they have to keep tabs on from the second they touch the field to the second they leave it: running back Christian McCaffrey. 
"It is a very unique challenge. We were talking earlier in the week and if he's not the best, he's one of the best players we have played against all year," Jacksonville defensive coordinator Todd Wash said on Thursday.
"He is somebody that obviously we have to know where he's at at all times on the field and try to do some different things to try to take care of him. But he is playing like an MVP candidate right now."
The third-year running back has shredded NFL defenses this year, running for 411 yards (4.8 yards per carry) and four touchdowns, along with leading the Panthers in receptions with 25 catches for 218 yards. McCaffery has been the most dangerous skill player in the NFL this season, separating himself from the pack.
"You look at them offensively, obviously Christian McCaffrey is a great player. I mean, he is a great player coming out of Stanford. He can run well inside, outside and he is deadly in space, he'll do a hell of a job and hurt you," Jaguars head coach Doug Marrone said this week. 
Outside of being a lethal threat in the running game, McCaffrey is a player the Jaguars are going to have to account for on all passing downs as well. From running wheel and angle routes out of the backfield to lining up out wide and beating linebackers in coverage, he is a versatile chess piece for Carolina and starting quarterback Kyle Allen.
To combat that versatility, the Jaguars are going to have to primarily rely on linebackers Myle Jack and Quincy Williams. The duo has played well vs. the run this season but has struggled at times in pass coverage. Despite that, Wash thinks Williams' and Jack's speed will be an asset on Sunday. 
"We don't have to go with dime packages or a quarter package or anything like that; we can stay base. And that is kind of what this system is. A lot of people that run this system don't play dime unless they have injuries because you have to have linebackers that can run, and we are fortunate that we do, so it allows us to matchup vs guys like McCaffery and some of the other backs we will face this year," he said. 
Williams said he comes into the Jaguars facility early each Monday to study the team's next opposing running back. In McCaffery, he sees a different style of back than the past runners he has faced in Derrick Henry, Royce Freeman and Phillip Lindsay.
"He's a very explosive guy," he said in the locker room this week. "Everything that's said about him is true. But the biggest thing is, you gotta make the tackle. The biggest thing with me is making the tackle, wrapping him, not letting him break tackles."
For the Jaguars coaching staff and defensive starters, they will have to focus on not letting McCaffery break off any huge plays. He is going to make his plays regardless considering his talent and athleticism, but the hope for the Jaguars is they can mitigate his impact.
"They're going to find ways to get him the football. We understand that and we just have to make sure that we have a lot of people around him, because he's very difficult to bring down if there's space one-on-one, and you can see that on the film. He's a really good football player," Marrone said.