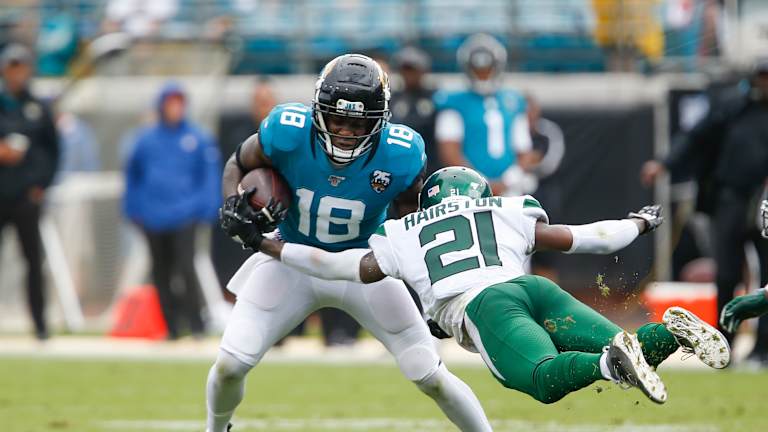 Jaguars Week 8 Stock Report: Chris Conley Has a Big Performance
Whose stocks are rising and whose are falling?
The Jacksonville Jaguars are back to .500 after winning two straight games against the Cincinnati Bengals and the New York Jets, pulling off a 29-15 victory against New York. Gardner Minshew pulled off some Minshew Magic, Leonard Fournette had a big run and Sacksonville was back. 
Following this game it became obvious a lot of players are on the rise, resulting in their stock going up. Not a lot of players their stock go down which is a good development for Jacksonville.
Now that we're midway through the season lets go over whose stock is on the rise and who is on the decline.
Stock Up: Josh Allen
Defensive. Rookie. Of. The. Year. Josh Allen has been as advertised for the Jacksonville Jaguars in 2019 - Allen was never supposed to fall to #7 in the 2019 NFL Draft. But luckily for the Jaguars, he did and he's been one of the biggest contributors on the defense.
 He currently leads the Jaguars in sacks with seven and he has 23 tackles along with two forced fumbles. Against the Jets he had two sacks - his second two-sack performance of the season. He also had a tackle for a loss, a forced fumble and three hits on the quarterback.
Stock down: Marqise Lee 
Lee's season isn't necessarily his fault - neither is his seemingly fall from grace since 2017. He's been sidelined several times and is unfortunately constantly is dealing with an injury. He found himself injured again Sunday with a shoulder injury, though head coach Doug Marrone said he "has a shot" to play Sunday.
So far in 2019, Lee has been outshined by DJ Chark, Chris Conely, Dede Westbrook and Keelan Cole, which is super disappointing not only because the Jaguars extended him in 2017, but because he's the most seasoned player in the Jaguars receiver room. He currently only has 18 yards on the season, which is a huge disappointment. 
Stock up: Tre Herndon
This feels great - watching Tre Herndon grow as a player has been one of the most fun parts of the 2019 season so far. Herndon got put into the starting lineup during the whole Jalen Ramsey situation - he then struggled at times, and that's putting it lightly. But against the Jets, he finally had his breakout game. 
He tallied his first two interceptions of his young career, and h even led the famous breakdown in the Jaguars locker room that they do following victories. This game will do wonders for Herndon moving forward this season, as it took him some time but he's finally coming around and his stock is finally on the rise. 
Stock down: D.J. Hayden
His stock isn't down due to play, but unfortunately, he like Lee also suffered an injury on Sunday. Hayden proved his toughness, however, going back into the game in the fourth quarter, but would leave the game again. He, like Lee, has also had to fight through some injuries this season. Also like Lee, Marrone said Hayden has a shot to play Sunday but there will unlikely be any updates until Wednesday if on how serious the injury is yet or if he'll be ready to go for the London trip. 
Stock up: Chris Conley
This man has stepped up big time during the back half of the season. He racked up his second 100-yard performance of the season - bringing his yearly total 429 yards and two touchdowns. Conley is seemingly going to be Lee's replacement as a veteran leader in the receiver room. He and DJ Chark already have a really strong bond it seems and he's been a big part of Chark and Dede Westbrook's development. His biggest play of the game was a 70-yard touchdown connection from Minshew down the middle of the field where he was wide open and then ran the catch the rest of the way in.