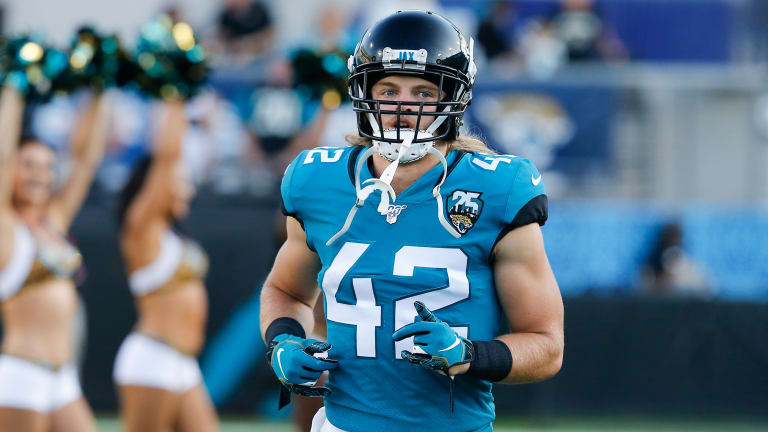 Once an Undrafted Afterthought, Andrew Wingard has Found his Niche
Rookie safety Andrew Wingard has used his special teams play to leave an impression on the Jaguars.
Rookie safety Andrew Wingard has used his special teams play to leave an impression on the Jaguars.
Special teams is often an unheralded unit comprised of fringe starters and key reserves.
These third phase contributors generally have a one-down mentality and operate in relative anonymity each week, with the exception of the occasional blunder. The top performers on each unit across the league are typically young players eager to establish themselves at the next level.
Often times, the gateway to an elusive roster spot for many of these former college stars is contingent upon their ability to etch out a role on special teams.
Take Jaguars' safety Andrew Wingard, for example.
A three-time first-team All-Mountain West Conference standout at Wyoming, Wingard amassed 454 tackles over his four-year career – second-most in program history. The versatile centerfielder finished his prestigious collegiate career tied for most tackles all-time in the Mountain West Conference. He rarely came off the field and was largely regarded as one of the top defenders in college football.
He was the heartbeat of a vaunted Cowboys defense.
When the 2019 NFL Draft came to a close, however, Wingard found himself on the outside looking in. He was without a team and thrust into a vast pool of undrafted free agents.
Widely heralded as one of the premier undrafted players, the Jacksonville Jaguars signed Wingard to a free agent deal on April 28, where he would embark on what appeared to be an uphill climb to make the final roster. His primary competition was C.J. Reavis, a favorite of the coaching staff. The 2018 holdover was expected to contend for a pivotal role in the Jaguars secondary.
Rather than treating his unexpected adversity as a conclusion, the 22-year-old Wingard used it as an opportunity to prove he belonged.
Lauded by the coaching staff for his intelligence, instincts -- and penchant for throwing his body around throughout the summer -- Wingard defied the long odds and made the Jaguars' 53-man roster.
The six-foot, 209-pound heat-seeking missile asserted himself on special teams and was active for the season opener. In the teams Week 1 clash with the Kansas City Chiefs, Wingard logged 18 special teams snaps and recorded his first NFL tackle.
Wingard, along with fellow defensive backs Josh Robinson and Cody Davis – and linebackers Najee Goode and Leon Jacobs – entrenched themselves as the core members of special teams coordinator Joe DeCamillis' unit.
"It is a one down mentality," Wingard said. "That is what Joe DeCamillis says. We have one play to go out there and either set up and pin them deep and set the defense up, or get a good return and set the offense up."
What makes Wingard such an effective presence in the third phase is his astute football IQ, diligent film study, and reckless abandon style of play. The long-haired safety is often the first player down the field in coverage -- after tangling with multiple players attempting to slow his path to the returner. 
When he isn't downfield making the tackle, he finds other ways to impact field position, such as occupying blockers to free up teammates to make plays or forcing a fair catch.
"Field position alone is one of the biggest things in football these days, where you know, teams that start inside the 20 are, I don't know what the percentage is, are less likely to score touchdowns," Wingard said. "And teams that start farther, like the 30-yard line or something, are some percentage more likely to score a touchdown. So, it is one of those things like I said that flies under the radar."
The undrafted rookie made two crucial special teams stops in Sunday's loss to the New Orleans Saints, and his first quarter tackle in punt coverage was textbook:
"I am running down and setting the net," Wingard said. "I am the contain player and couldn't let him get outside of me, so I just kept a vertical edge and made the play inside the 20. And that is that hidden yardage right there. That was a super cool play to make for sure."
Through six games, Wingard is credited with seven tackles and is tied for fourth on the unit in snaps (127), accounting for nearly 73 percent of the total. Only Davis, Robinson and Jacobs have played more. Though early in the season, Wingard is making a convincing case for Pro Bowl consideration as a special teams performer.
One interesting development to watch as the season progresses will be Wingard's defensive usage, where he's logged 23 snaps. A fundamentally sound run defender, Wingard could thrive as a box safety in defensive coordinator Todd Wash's scheme.
On the roster bubble merely two months ago, Wingard's stellar play on special teams could ultimately be what expedites his emergence from the shadows of anonymity.