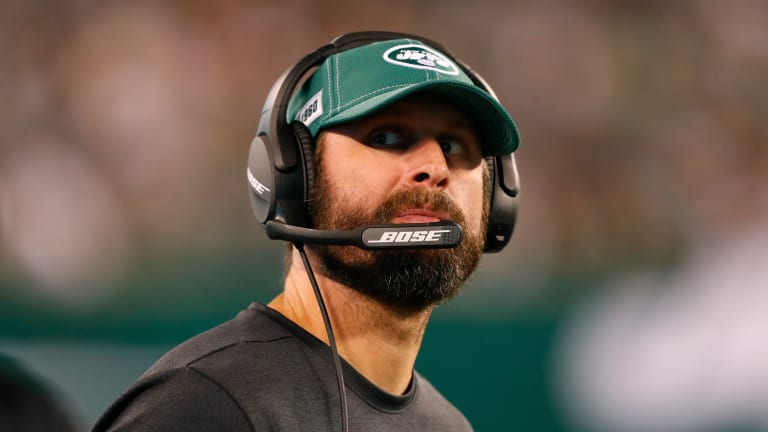 WATCH: Adam Gase's faith in Taylor Bertolet isn't wavering despite latest uneven showing
Gase offered a few interesting takeaways following the Jets' final exhibition game against the Eagles.
The New York Jets triumphed over the Philadelphia Eagles on Thursday night by a score of 6-0 in the preseason finale. 
Here are some of the postgame highlights from Jets coach Adam Gase:
Gase on his confidence level in struggling kicker Taylor Bertolet: "Mine's good. I mean it's just, two of those I just saw guys running out late. You just can't do that to the kicker. You can't bust his rhythm like that."
My take: Bertolet struggled with three big misses on Thursday night. While the misses didn't prove to be costly, they do signal a cause for concern. Given the team's recent history with kickers, I'd expect them to at least bring a few in for a workout this week. Perhaps they'll roll with Bertolet in Week 1 and stash one on the practice squad -- just in case.
Gase cites "trust" with veteran running back Bilal Powell:
My take: Listening to Gase, it sure sounded like he's comfortable with Powell and knows what he has. The 31-year-old should be a lock for the 53-man roster, filling the role of the third-down option.
Gase was asked about rookie cornerback Kyron Brown not playing in the finale, and said he was playing it safe to avoid injury:
My take: That is coaches speak for saying they've seen what they needed to see from Brown, and he's likely made the 53-man roster. Roster spots 50-53 are fairly fluid however, and it's not uncommon for a fringe player to make the cut, only to be waived in favor of another player they prefer.
Gase on how hard cut downs are: "It's the worst part of it."
My take: Being around 90 players since May, it's only natural to form relationships and bonds. Coaches watch players grow, develop and mature right before their eyes on a daily basis. Then, after months of hard work, they have to sit 37 of those men down and tell them they didn't do enough to make the cut.