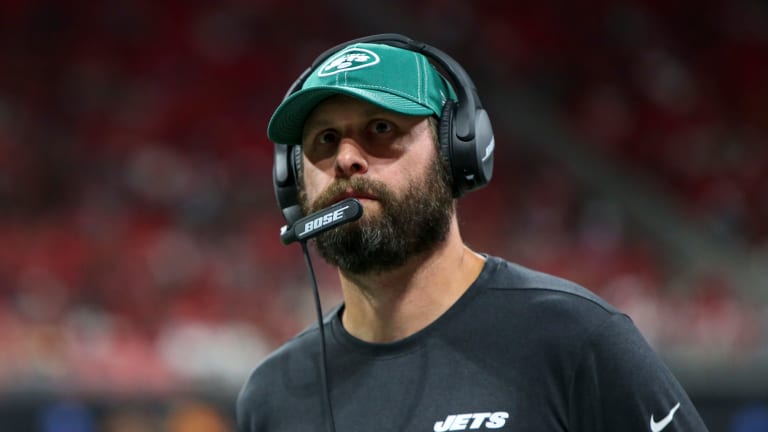 Bart Scott: Too soon to turn on Adam Gase
Legendary New York Jets linebacker Bart Scott said fans need to show patience with Adam Gase
Don't count Bart Scott among those ready to call for the firing of Adam Gase. The New York Jets head coach is off to a 1-6 start in his first year with the team and already, the fanbase is calling for Gase's head. 
Scott, a former star middle linebacker and a fan favorite in New York, doesn't think it is the right time to sharpen the pitchforks and come after Gase. It was already a rocky start to his tenure with the Jets after an introductory press conference that at times appeared flighty and didn't instill confidence in the transition from the Todd Bowles regime. 
Everything since then, from smelling salts on the sidelines to the sometimes unusual line of responses to Kelechi Osemele's injury and subsequent surgery have made Gase an easy target for fans. 
Combine all these issues with a poor start to the year and some clear regression from second-year quarterback Sam Darnold and fans are ready to be one and done with Gase. 
"The criticism comes with the job, you know this is what you sign up for when you come to New York. Sometimes, New York lacks patience. He's inheriting not a bad team but a team without a lot of depth," Scott told SI.  
"I went through it the other day on my radio show on the first round picks that should be slam dunks, starting with Kyle Wilson to Quinton Couples to Dee Milliner…Calvin Pryor. These should be players still in the league and half of those players aren't in the NFL in what would be their seventh, eighth year is an example of where they have been, where they've gone wrong. The fact that they have all this salary cap space is because they haven't hit with any of them to give them a new contract. You have to go back to Muhammad Wilkerson for a first round pick that they've given a second contract." 
Scott currently co-hosts a popular mid-day show on WFAN with Maggie Gray. 
Patience, as Scott notes, is in short supply for a franchise that has gone five decades without making a Super Bowl, letting alone winning one. 
And Gase's record is in stark contrast to the first years of recent Jets head coaches of the past. 
In 2015, Todd Bowles went 10-6 and nearly made the playoffs in his first year as head coach of the Jets. Rewind back to 2009 and Rex Ryan did make the playoffs, a 9-7 regular season record good enough to get the Jets into the playoffs. From there, the first-year head coach guided his team to the AFC Championship Game. 
And in 2006, Mangini's first year with the Jets saw them go 10-6 and make the playoffs, earning him the 'Mangenius' nickname. Five years earlier, Herm Edwards went 10-6 and guided the Jets to the playoffs as well in his debut season with the team. 
The last four head coaches have all had winning records in their first year with the Jets. Gase, already on six losses, is trending in the direction of breaking that streak. 
"Of course it is too early, the man hasn't even gone through his first year. Think of the overreaction that people had in San Francisco last year and look at it now, the guys have been together, building that team, building the offensive line, trading for Jimmy [Garoppolo]. You gave the head coach and general manager a chance to build that team as they see it," Scott said.