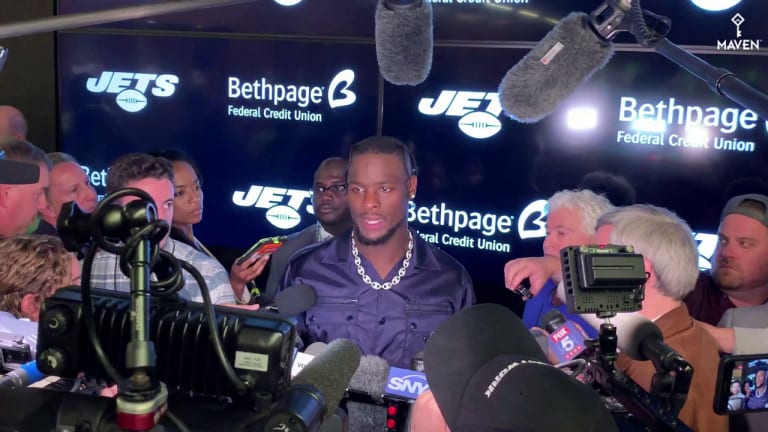 Adam Gase Impressed with Le'Veon Bell, Promises More Touches for Running Back
New York Jets running back Le'Veon Bell is impressing off the field with his leadership but needs to be more involved in the offense
Le'Veon Bell certainly has surprised in his first year with the New York Jets. And it has nothing to do with his production on the field. 
Bell's rap sheet was well known around the league. The free agent signing was supposed to be a malcontent, a talented running back who nonetheless brought baggage with him. Bell's holdout last year with the Pittsburgh Steelers underscored this point. He is supposed to be impossible to coach. 
And yet here Bell is, stating his love for the Jets and the direction of the team. Despite the Jets being 1-6, Bell has publicly and privately bought into the franchise, a lesson that would be worth following for a few of his current teammates in the Jets locker room. 
It is something that Adam Gase, in his first year as head coach of the Jets, has noticed about a running back he supposedly was trying to trade earlier this week. Bell has apparently bought into the franchise. 
"I mean that's what he sounds like during the game. Any time that he goes by me, he'll just say, 'Hey, stick with it, we're good.' The positivity that he has throughout a game is awesome," Gase said. "It's never a, 'Hey, I need this,' or, 'I want this.' It's, 'Hey, call this play that you called earlier. It was open, we've just got to protect it,' or,'"Get to this run because they're doing this, this and this.' He sees the game extremely well. It's been very impressive to kind of witness. 
Earlier this week, Bell posted on social media asking for patience from the fanbase. It was a timely and perhaps needed message for this team's despondent and dejected following given Sunday's 29-15 loss at the Jacksonville Jaguars. 
"I need everyone to understand it takes a process to build a winning program, to build a winning organization," Bell said via his social media.  
"I'm happy as hell to be a New York Jet, I'm happy to be here despite all the trade rumors and talks. I'm here and I'm happy to be here. But everyone has to have a little bit of patience." 
In Sunday's loss to the Jaguars, Bell had just eight carries for 23 yards. Given that he is a Pro Bowl running back and averaged 4.7 yards per carry just the week prior in a loss to the New England Patriots,  the lack of touches for Bell is worrisome. 
This is something that hasn't gone unnoticed by Gates. 
"Yeah, that was disappointing last week. It's just, I wanted to get him the ball more, he was just getting nowhere to go and there was some passing game stuff, we were trying to get him the ball and the ball just went other places," Gase said.  
"I know there were a couple times where, he was like, 'I've just got to throw it to him there, he's open.' And we bypassed him. We just have to make sure that he has touches. Last week was bad, that was on me. I just kept seeing every time that he ran the ball it seemed like there were two or three guys that were waiting for him and we've just got to make sure that we get guys covered up. We need to do a good job of creating some kind of hole for him to go through and that he can get to the next level. We at least got to get him to the linebackers where he's clean."