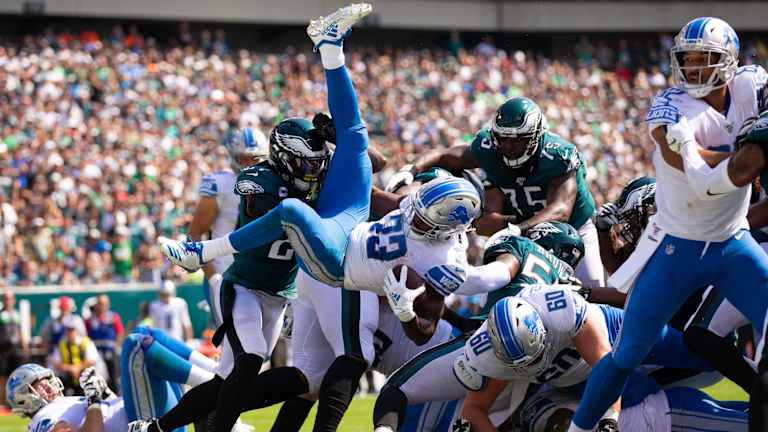 Is Matt Patricia Concerned about Kerryon Johnson's Durability?
Matt Patricia expressed that he takes each player's situation into consideration on a case-by-case basis
As soon as the 2019 NFL season commenced, the topic of how often to utilize running back Kerryon Johnson became a popular one for fans and pundits alike.  
Fans wanted to see Johnson become a "bell-cow" back that could be the tone-setter for the Lions offensively. 
There was always going to be a major factor that prevented that from fully occurring, though: Johnson's injury past.
The injury bug has never been friendly to Johnson, and it reared its ugly head once again this past Sunday against the Vikings. 
He exited the contest prematurely with a right knee injury, and it was announced on Tuesday that he will be placed on injured reserve due to the injury. 
To get an idea of Johnson's battle with the injury bug over the years, check out this excerpt from a piece penned by Jeff Risdon of Lions Wire:
"During his time at Auburn, Johnson suffered a shoulder injury at the end of the 2015 season that required surgery. He suffered another injury to the same shoulder in the Tigers' final regular season game of the 2017 season but did play through the pain in the SEC Championship game.
Between those two shoulder injuries, Johnson also missed two games in 2017 with a hamstring problem and one game in 2016 with a sprained ankle. But the lengthy injury history goes back even further.
While at Madison Academy in Alabama for high school, Johnson suffered injuries to both shoulders, a right knee sprain and a broken thumb while playing as an option quarterback.
Recommended Lions Articles
With the Lions, Johnson missed the final six games of his rookie campaign in 2018 with a knee injury. That malady is not directly related to the knee injury suffered Sunday in the Lions' loss to the Vikings." 
Lions head coach Matt Patricia was asked during his teleconference Tuesday if he was concerned about Johnson's durability. 
Patricia explained, "For us, we just like to stay in the moment with all of that stuff. We'll see how this goes, as far as that's concerned. We know the running back position is one that is a difficult position to stay completely healthy in."
Patricia also touched upon how Johnson's injury past doesn't mean he will continue to be injury-prone moving forward in his career.   
"Sometimes in players' careers, and I've been around players before that have had a lot of injuries earlier in their careers and setbacks, and then, have had nothing for six or seven years after that," Patricia commented. "We'll take them all case-by-case, and we'll just see how it goes. Long-term speculation right now for us ... it's just all about the right now."
Could the Lions add a running back as the Oct. 29 trade deadline nears? 
"Well, the interesting thing about the trade deadline is that you can trade and acquire people much before the deadline. So, I think we're always in the business of listening," Patricia replied. 
He added, "If people are interested in doing something to their rosters, we're always trying to improve our roster every single day, as best we can. Whatever those opportunities are I'm sure (Lions GM) Bob (Quinn) and his staff, they listen to a lot of different conversations that go on, and they take care of themselves when they present themselves."
More: Quandre Diggs Traded