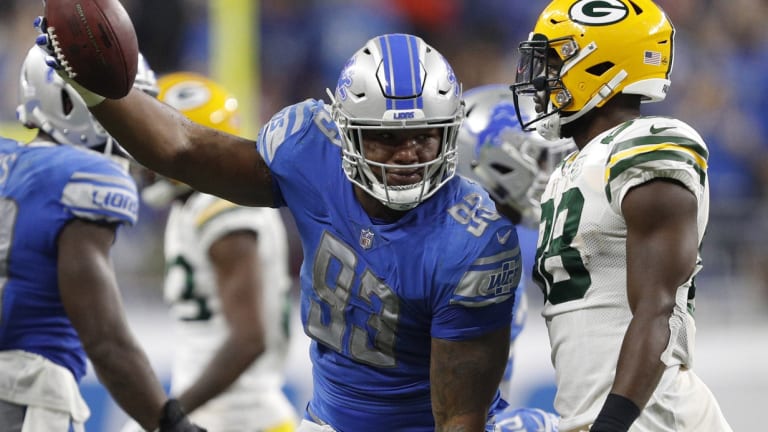 Poll: If the Lions Make Only One Move, Should It Be for Offense or Defense?
Vote to decide which side needs to be improved more: the Lions' offense or defense?
The trade deadline is looming. 
It takes place tomorrow at 4 p.m. EST, and the Lions are a prime candidate to make a move or two. 
The Lions' offense desperately could use an upgrade on the ground. 
With the injury to starting running back Kerryon Johnson, quarterback Matthew Stafford has become resigned to the fact that the Lions can't consistently gain yards on the ground. 
In fact, on Sunday against the Giants, the Lions rushed 25 times for a measly 59 yards. 
Earlier on Monday, it was revealed that the Miami Dolphins traded running back Kenyan Drake to the Arizona Cardinals. 
The Lions still have a couple solid trade options to look into at running back. 
Make the Chargers an offer they can't refuse for two-time Pro Bowler Melvin Gordon or revisit the idea of acquiring Rashaad Penny from the Seahawks.
Recommended Lions Articles
On the defensive side of the football, the Lions have suddenly become thin in the secondary. 
After trading Quandre Diggs last week, fellow safety Tracy Walker left Sunday's contest with the Giants in the second half due to a knee injury.
Should the Lions bolster the secondary via a trade for a veteran or should they instead look to upgrade their pass rush?
Many, at this point, have also discussed the possibility of moving on from middle linebacker Jarrad Davis. 
Per Logan Lamorandier, "Davis has been a plus in the pass-rushing department in limited opportunities. Outside of that, though, he has struggled in coverage, gets pushed around in the run game and continues to take questionable angles in pursuit of ball carriers. Patricia's scheme is dependent on gap control. It's not difficult to find Davis over running plays or being pushed out of position on film."
The Lions have shown a willingness to move on from players that do not fit their scheme or that do not perform up to the standards set by coaches.
If the Lions make only one move, what side of the football should be the priority? Let your voice be heard by voting below!