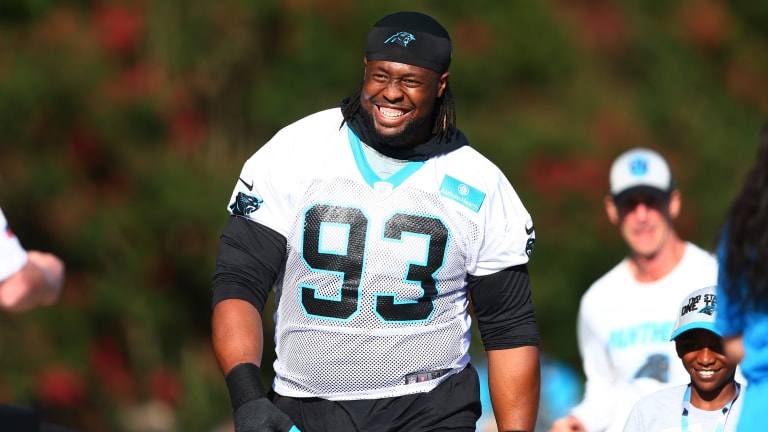 Gerald McCoy Proving to be Ultimate Leader at Panthers Training Camp
After two days of training camp, Gerald McCoy's leadership traits are already evident.
Gerald McCoy has proven to be an incredible player -- but his character is really what makes him special.
McCoy spent his first nine seasons with the Tampa Bay Buccaneers and established himself as one of the most explosive defensive tackles that the NFL has to offer. He hasn't recorded less than six sacks in a season since 2013, and has been named a Pro Bowler six times.
He was one of the biggest free agents to join the Carolina Panthers in years, and he's making an immediate impact. Panthers.com released a Q&A with McCoy on Friday -- and it revealed some pretty insightful things about him and his leadership. 
Since this is my first year here, I haven't made the rule. But usually I make the rule that rookies and young guys have to go with me before or after practice. I make it mandatory. But since this is my first year here, I can't really make demands. But I offered it to the young guys. And he came over for some work. That's just who I am. They always say you're as strong as your weakest link. But how strong are you if you have no weak links? That's just the mindset I've always had.
Two guys that come to McCoy's mind in terms of leadership are Luke Kuechly and Kawaan Short.
KK is a leader, obviously, and Luke (Kuechly). But one guy that's stood out to me as being a leader is Shaq (Thompson). With how he competes, how he prepares and his communication on the field. Leading by example. Hopefully I can get my name in the mix as being one of those leaders. But it will take a second. You don't just come in and gain respect. You have to earn it.
When it comes to gaining respect -- he has one simple method.
Consistency. It just happens when it happens. Guys will see it. If you're consistent with doing things the right way, leading the right way and doing what you're supposed to do on the field, guys will see it. It just becomes that.
The addition of McCoy makes for a very talented front seven. McCoy and Short will hold down the trenches -- while Bruce Irvin, Mario Addison, Brian Burns and Christian Miller will terrorize the edges. It's McCoy's job to coach up the younger players and bring that veteran leadership.