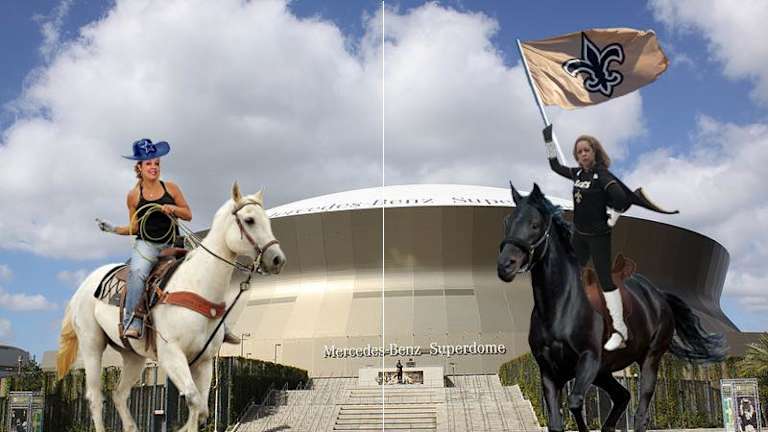 Saints Angels of the Week: "She Dat" & Furr Family - Week 8
She Dat and The Furr Family's Creative Memes each week are done as a love affair for the New Orleans Saints and Who Dat Nation.
She Dat and The Furr Family's love for the New Orleans Saints are filled with creativity in their memes and photos focused on the Saints opponents of the week.  In the NFL, there is no place like the Superdome on Any Given Sunday. Many Saints fans devote heart and soul like no other with their creativity and fanatical spirit. The Who Dat Nation is an important part of the fabric of New Orleans and viewed as one of the most enthusiastic fan bases in the entire NFL.  Saints News Network/SI are featuring Kelly Roberson Furr AKA "She Dat" and the Furr Family, Bill, Shelby, and Nick Furr as this week's Saints Angels of the Week.
It all started with a pair of white boots from a 70s party. The Furr family and guests were watching a Saints game, and the team was playing horribly. As a joke to make her sister laugh, Kelly came out with the white boots on and things immediately turned around. They deemed the boots good luck from that point on.
When the Saints played the Atlanta Falcons last year, Kelly talked about "She Dat" being able to fly. Her daughter, Shelby, who is a photographer, marketing, and social media professional said she could make her fly. Through hard work and dedication, Shelby brought "She Dat" to life.
As a family, they brainstorm ideas, storyboard and shoot pictures. Kelly's husband Bill helps with a concept and her Nick does the video production. It's truly a family affair. It really warms her heart to hear friends and family say the weekly posts on social media "crack them up". It's all about fun and camaraderie, and for Kelly, they are WHO DATS for life!! During the adventures of "She Dat", you can find her giving the Seattle space needle a much-needed makeover.
From taming the Jacksonville Jaguars…
To teaching integrity and manners…
"She Dat" has proven that she has a unique take on Saints Football fandom. Being a Saints fan is not a hobby; it's a lifestyle! Congratulations 'She Dat' and the Furr Family, you are the Saints News Network/SI's Saints Angel of the Week. We celebrate you this week as we continue the perfect orchestra of "WHO DAT, WHO DAT! WHO DAT SAY THEY GONNA BEAT THEM SAINTS, WHO DAT, WHO DAT!"
Saints Angels is a podcast dedicated to the female fans of the New Orleans Saints. The program is produced by the Saints News Network.