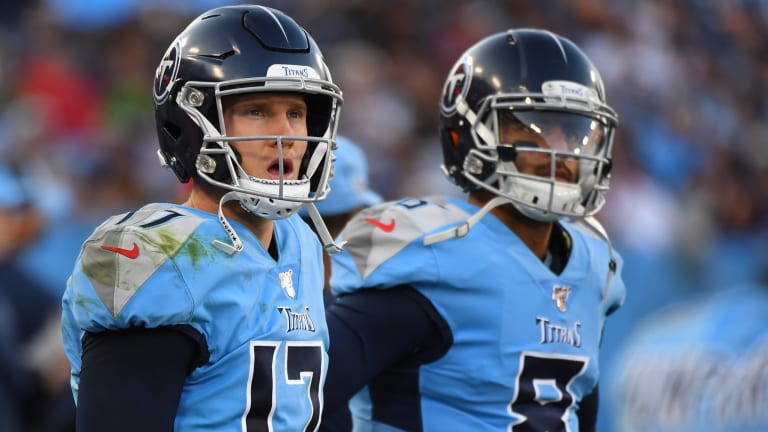 Titans Tiptoe Around Tannehill's Success
Players, coaches careful not to say anything that might slight Marcus Mariota
Marcus Mariota lost his spot as the Tennessee Titans starting quarterback but has maintained a prominent place in the hearts and minds of his teammates and coaches. That much has become apparent in the days that followed Sunday's 23-20 victory over the Los Angeles Chargers.
In fact, it has been unexpectedly comical this week to hear those within the organization go out of their way not to say anything that might be construed as a knock against the second overall pick in the 2015 NFL Draft. Mariota had started 61 of the 62 games he played since he entered the league but was benched in favor of Ryan Tannehill following a shutout loss at Denver.
The simple truth is that Tannehill performed better in that contest than Mariota did in any of the previous six.
Any number of statistics speak to that fact. But good luck getting anybody to actually say it.
"I hate to sit here and be cliché, but we protected well," offensive coordinator Arthur Smith said Thursday. "Guys ran good routes. Our spacing was a little bit better, not perfect. And [it was] the way the game flowed."
Tannehill threw for more yards (312), had a better completion percentage (79.3) and yards-per-attempt average (10.8) than Mariota did in any of his starts this season. The offense converted better than 50 percent of its third-down attempts for the first time (54.6 percent, to be exact) and the 17 first downs passing were a season-high.
Add to that the fact that wide receiver Corey Davis (six receptions, 91 yards, one TD) and tight end Jonnu Smith (three receptions, 64 yards) each had their best games of the season. Plus, rookie wide receiver A.J. Brown set a career-high with six catches (64 yards).
"We had a good feeling with Ryan – and Marcus," wide receiver Adam Humphries said Wednesday.
It helped that Tannehill faced a Chargers were without several key players in the secondary and three of the four starters on the defensive line because of injury. No team has allowed a higher completion percentage (74.6) thus far.
This week he faces a Tampa Bay defense that has allowed an average of 304.5 passing yards per game, the highest in the NFL.
"Our guys did a good job," Tannehill said of his first start. "We have some talented guys that are dangerous once they get the ball in their hands. So as much as we can do that – get the ball in their hands on the run and allow them to make plays – … then we're going to be in good shape letting them go to work."
Mariota was named a team captain prior to the season (it is his fifth year with that distinction) and continues to function in that capacity, at least to some degree. He took part in the pre-game coin toss Sunday as usual. To be sure, that is a symbolic gesture. His participation, however, is significant in that he still considers that part of his duties (even as a backup) and his teammates consider him worthy of that moment.
His performance during the first six weeks, though, did not warrant his participation at any other time Sunday.
"We're not going to go back and revisit the first six weeks," coach Mike Vrabel said Monday. "That doesn't help us going forward or wasn't going to help us (Sunday). I think (Tannehill) was decisive. It wasn't perfect, but he trusted (the receivers). He moved it around, let the play develop. He saw some guys on the first read, second read. … The line protected. I thought we mixed up what we were calling."
In other words: it wasn't one guy – Tannehill. That's the one message everyone wants to send.