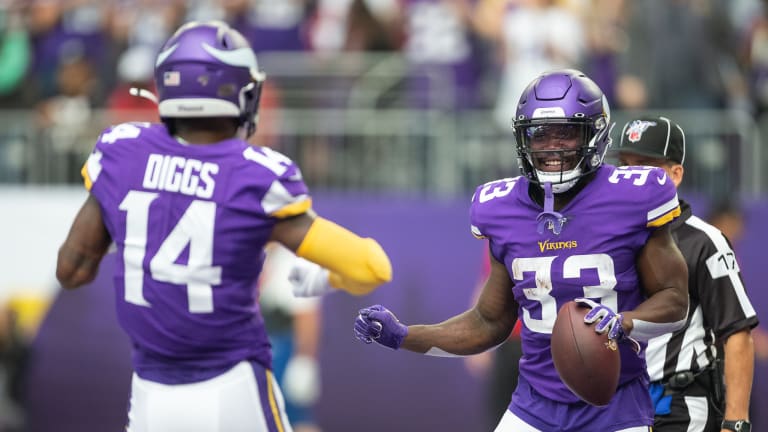 Versatility, Play-Action Have Helped Vikings Offense Start Rolling
The Vikings offense has found another gear since being embarrassed in Chicago.
Two weeks ago, the Vikings offense was in shambles.
They had just been embarrassed in Chicago, having been held scoreless until the waning moments of a 16-6 loss to the Bears. The offense, which boasts the most expensive QB-WR-WR trio in the NFL, managed just 222 yards and 3.8 yards per play in that game, both of which would've looked even worse if not for a garbage time 92-yard drive. To further complicate matters, the two star receivers were clearly upset with the way things were going.
Fast forward two weeks and that dysfunction is beginning to seem like a distant memory. The Vikings are coming off of two straight wins in which they scored a combined 66 points, and a look at the stats shows that their 6.3 yards per play this season ranks third in the NFL.
| Opponent | Vikings Total Yards<br> | Vikings Yards Per Play<br> |
| --- | --- | --- |
| Falcons | 269 | 5.5 |
| Packers | 421 | 7.0 |
| Raiders | 385 | 6.5 |
| Bears | 222 | 3.8 |
| Giants | 490 | 7.7 |
| Eagles | 447 | 6.9 |
It's undeniable that the Giants and Eagles don't have defenses of the same caliber as the Bears. With that said, it's also undeniable that the Vikings have hit their stride on offense due to improvements by Cousins, the offensive line, and in playcalling.
Early this season, it seemed as though the only path to a big day on offense for the Vikings would be running the ball nearly 40 times per game and hoping Dalvin Cook and Alexander Mattison could move the ball effectively. As of late, the offense has gotten back to using all of its weapons and being what it wants to be: balanced, versatile, and unpredictable.
"It's difficult (to stop) when you've got playmakers at running back, at the tight ends and the wide receivers," Mike Zimmer said of his offense after it put up 38 points against the Eagles.
Cousins has stepped up after a rocky start with two of the best games of his Vikings career. Cook's strong play has been a constant all year, but having success in the passing game has given the Vikings a strong multidimensional offense.
"It was helpful to get a rhythm going these last couple weeks," Cousins said. "When the season starts you're kinda learning what you are and what works well and you're figuring that out early in the year. I think it was a good confidence boost the last couple weeks to have games where we felt like we found a little bit of an identity, in addition to our run game."
The biggest and most noticeable difference has been the emergence of Adam Thielen and Stefon Diggs. The two elite, highly-compensated receivers were not major factors in the season's first four games, leading them to make their displeasure known, albeit in different ways.
Over the past two weeks, they've started to look like the Thielen and Diggs of old. Taking advantage of the extra attention teams are forced to give to Cook, the duo has exploded for 416 yards from scrimmage and 6 receiving touchdowns over the past two games. Starting with Thielen against the Giants and then with Diggs against the Eagles, they've taken turns putting together monster performances that have served as reminders of their All-Pro talent.
Cook, third receiver Olabisi Johnson, and tight ends Kyle Rudolph and Irv Smith Jr. have also made impacts as pass-catchers at various points.
"We've had some success the past couple weeks throwing the ball," Diggs said. "We look forward to building on that because if you can run the ball and throw the ball efficiently...and play good defense, you'll be playing a lot of football."
Credit for the Vikings' offensive resurgence also has to be given to the offensive line – which performed remarkably well against a tough Eagles front – and to the game-planning and playcalling of Kevin Stefanski and Gary Kubiak.
A big part of what has made the Vikings offense difficult to stop lately has been its unpredictability. Play-action passes and screens are major parts of Kubiak's zone blocking scheme, and Cousins has excelled when getting out of the pocket on bootlegs and rollouts. Misdirection has been a crucial element on screens and play-action, and the Vikings even mixed in a few reverses against the Eagles. 
With Cook's home-run ability outside the tackles continuing to be a major focus for opposing defenses, Thielen and Diggs have seen plenty of single coverage, and the Vikings have finally begun to take advantage. Four of Cousins' six touchdown passes over the past two games have come after some sort of play action.
Teams can't just load up to stop that outside zone (run)," Cousins said. "They have to understand that there's a possibility that there's a pass play coming back the other way."
It's been a work in progress, but the Vikings are starting to see the offense they envisioned  when they brought in Kubiak this offseason and spent their first four draft picks on offensive players. With a healthy Cook emerging as a superstar and Cousins hitting his elite receivers, the offense looks like a unit capable of being one of the best in the league.
"When you can run the football well, execute play action, execute screens, you can protect in the drop back game, you can have get guys open versus man coverage, now you are starting to have success in a lot of different areas, Cousins said. "That's when you start to say, 'hey that team is tough to defend.'"