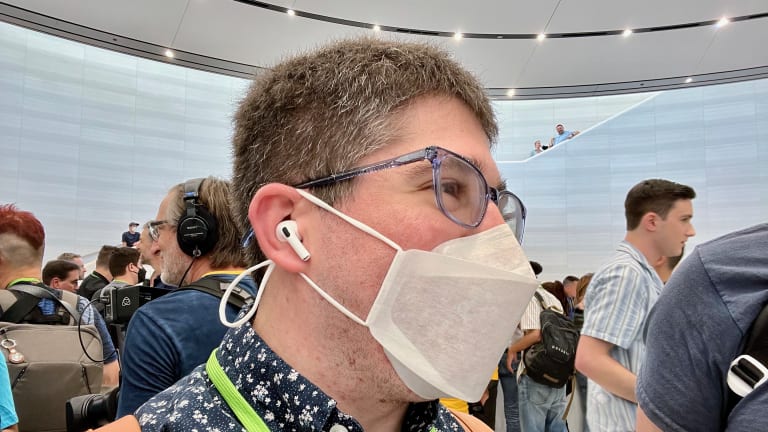 Amazon's Already Discounting Apple's New AirPods Pro
Apple's new AirPods Pro boast better sound, noise cancellation and transparency mode. The price has already dropped $10 off on Amazon.
The Arena Media Brands, LLC and its partners may receive compensation for links to products and services on this website. The Sports Illustrated editorial team is not involved in the creation of this content.
Whether you were already sold on Apple's second-gen AirPods Pro or are waiting for reviews, Amazon just gave you the perfect reason to lock in an order ASAP.
While Apple's latest earbuds don't ship until Sept. 23—this Friday—you can currently pre-order them for just $239.99 (originally $249.99) with free Prime shipping on Amazon. While it's not the craziest discount Apple has ever offered on Amazon, saving on a new product is still a win in our books.
New ear tip sizes and playback control
Like the original AirPods Pro, the second-gen stick with the functional design. Instead of just small, medium and large ear tips, you now get an extra small size as well.
You can still control playback, Siri requests and answer phone calls through the stem of these earbuds. A long press will activate a response, but you can now also control volume with a swipe up or a swipe down on the stem.
Upgraded functions
Apple upgraded the case with a U1 chip and speaker. In addition to locating the AirPods Pro via FindMy, you can also get some help finding the case. This is especially helpful for that loved that one that is always misplacing their set.
With a spot to loop in a lanyard, like this one from Incase, Apple is trying to make these AirPods Pro impossible to lose. You can also use the "Precision Finding" function, much like an AirTag, to get directions to the case when it's misplaced.
Inside the AirPods Pro is the new H2 chip, designed in-house by Apple. It features over a billion transistors, giving it a ton of power and muscle to make the music perfect for your ears through Adaptive EQ. Additionally, Apple is promising up to 2x the noise cancelation power over the original pair, which means they should be even better for focusing at a desk, commuting on a train or trying to get some shuteye on a long-haul flight.
Additionally, a new Adaptive Transparency mode seeks to build on the class-leading experience that first-generation AirPods Pro ushered in. The earbuds will now lower more jarring or loud sounds. For example, while walking through the city, you can hear other people and cars passing by at an average volume. Still, the jackhammer from a construction site or the emergency siren of a passing ambulance will be lowered. You'll still hear it, but the AirPods Pro will drop it a bit for the sake of hearing health.
Battery life
All of these upgrades won't lower the battery life. Apple says you can expect up to six hours with active noise cancelation (ANC) or Transparency engaged, while the AirPods can stretch to seven hours with those features off on a single charge. The case will extend that to 30 hours for either of those turned on, or 34 hours with them off.
You can charge the case with a physical Lightning cord, a Qi-enabled wireless charger or a MagSafe charger. Apple also designed it to charge on an Apple Watch Charger.
These seem like an excellent pair of earbuds—on paper and from our brief hands-on testing—and a laundry list of updates over the original AirPods Pro. If you're sold, there isn't a better time to score these. Amazon's offering them for $10 off at just $239.99, and you'll still get them delivered soon after launch.
Of course, if you don't need the enhancements, you can get first-generation AirPods Pro for just $179.99 (down from $249.99) on Amazon.
Prices are accurate and items in stock at time of publishing.