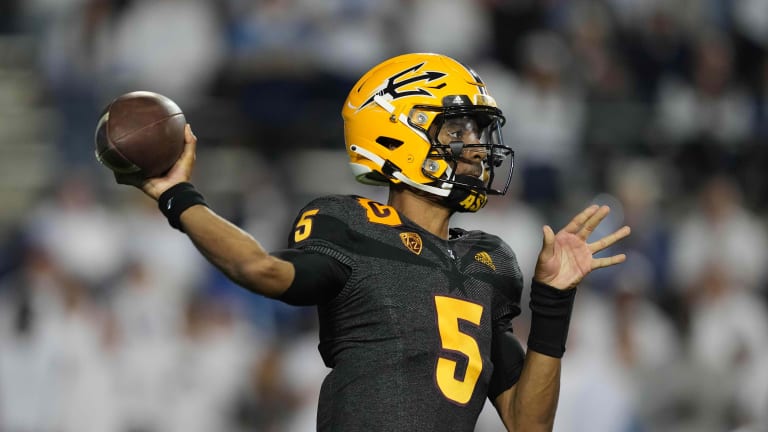 Publish date:
LIVE BLOG: Colorado vs Arizona State
Welcome to AllSunDevils' live blog of the fourth game of the season. The Arizona State Sun Devils face off against the Colorado Buffaloes. Here you will find live updates, events, analysis, and more on this page.
That is going to do it for the Live Blog. Thanks for everyone who tagged along. See you all next week. For more coverage stick with All Sun Devils for in-depth coverage of tonight's game.
Arizona State improves to 3-1 for the season and 1-0 against the PAC-12. It wasn't a flawless performance. Seven penalties for ASU cost them 90-yards but it was an improvement from last week.The Sun Devils defense was impressive early against the run and even after faltering in the second half found themselves again. ASU will be on the road against UCLA (3-1, 1-0) next week.
Arizona State defeats Colorado 35 to 13.
END OF GAME 
Jayden Daniels wraps up the night, 18 for 25 for 236 yards. On the ground Daniels leads ASU with 75 rushing yards and two touchdowns. A good night to show off the dynamic talent Daniels has. 
With a commanding lead ASU QB Jayden Daniels is done for the night. Trenton Bourget is in to replace Daniels. 
4:00-Despite being down 25 points, Colorado chooses to attempt a field goal. The 33-yard field goal is good. ASU leads 35-13. 
4:44- 3rd and 2 and Colorado can't convert, instead losing 3-yards on a run. 
8:17- On a incomplete pass from Brendon Lewis, ASU is called for pass interference. ASU has lost 90-yards on seven penalties. 
Halfway through the fourth quarter Arizona State has earned 426 total yards. Second highest this season so far. 
8:30- QB Jayden Daniels earns his second rushing touchdown of the game on 15-yard run. ASU up 35-10.
Jayden Daniels with a nice block to help Daniyel Ngata gain a few extra yards.
12:17- Rachaad White has had a fun game. He adds to the fun with a full on leap over a diving defender for a first down.
13:02-Brendon Lewis sacked yet again by ASU pass rush on 3rd down. Third sack for ASU. Colorado can't answer back after Arizona State scored.
The White touchdown reception was set-up by a fun play call. QB Jayden Daniels passed to Rickey Pearsall who passed to White on the other end of the field. The ol' double pass. 
14:16- Arizona State touchdown! Rickey Pearsall completes a 30-yard touchdown pass to Rachaad White. 28-10 ASU leads. 
15:00- ASU QB Jayden Daniels on the field to start the fourth quarter. 
Arizona States sturdy defense seemed to falter but was balanced out by the ASU offense who answered back a Colorado touchdown with one of their own. 
End of 3rd Quarter
0:24-ASU converts their 3rd of 7, 3rd down attempts with a 24-yard run from QB Jayden Daniels. Daniels limps after the play. 
1:57-ASU brings pressure on 3rd and 7. Buffalo QB Brendon Lewis tosses an incomplete pass under pressure. 
3:03-After a tackle on first down, ASU linebacker Darien Butler stayed down on the ground for a while longer. Trainers helped him up and is walking to the sideline. 
3:31- On 3rd and 6, QB Jayden Daniels is pressured and causes an incomplete pass. ASU now 2 for 6 on 3rd downs. ASU punts after what looked to be a promising drive. 
5:49- ASU QB Jayden Daniels completes a pass to WR Johnny Wilson for 24-yards.
5:54- D.J. Taylor returns the Colorado punt for 39-yards. Taylor has had positive gains on all of his returns this game.
6:14-Colorado can not convert the 3rd and 6. An ASU pass rush caused the pass from QB Brendon Lewis to be inaccurate. Lewis seemed shaken up after the play. Being checked out on the sidelines. 
7:54-Arizona State does answer back with a reverse hand-off to Elijhah Badger for a 17-yard touchdown run. ASU leads 21-10.                                     
10:03-ASU trying to answer back. QB Jayden Daniels completes a pass to 14-yard pass to WR Johnny Wilson.
Colorado passed just once in their opening drive of the second half. 8 plays, 75-yards the Buffaloes. 
11:02- Colorado answers back on their first drive of the second half. Running Back Alex Fontenot stretches out across the goal-line to score a 1-yard touchdown. Bufs fighting back, now trail 14-10.
14:17- Colorado opens the second half with four straight successful runs for 59 total yards. The ASU run defense not holding up. 
15:00-Touchback on the kickoff for Colorado.
ASU QB Jayden Daniels achieved 138-yards through the air. Some missed deep balls have ended drives but they have also been bailed out by six Colorado penalties. Running Back Rachaad White continues to impress. His seven carries for 24-yards has led him to his sixth touchdown of the season.
Arizona State heads into halftime after a promising first half. The ASU defense held their opponent to 36 passing yards. Four penalties for ASU cost them 55-total yards but they still lead by 11. 
End of First Half
ASU leads Colorado 14-3 after the first half.
Colorado was shut out in the previous game. Beckers field goal earns them their first score since week 2. 
0:18- 4th and 8 for Colorado and they elect to go for the field goal. A 51-yard field goal attempt. Kicker Cole Becker nails the field goal and puts the Buffaloes on the board. They trail 14-3 to ASU.
Following the fourth down conversion Colorado is on the ASU 43-yard line with 32 seconds in the half. Colorado with one timeout remaining. 
0:56- 4th and 4, Colorado going for it on 4th down. QB Brendon Lewis completes a pass to get earn a first down. 
2:22- ASU Defensive linemen Tyler Johnson on the ground with an injury. Holding his right leg as trainers help him out. 
2:29- ASU called for pass interference ona deep ball by Buffalo QB Brendon Lewis.
ASU is 2 for 5 on 3rd downs tonight. Against the Colorado defense, they should be converting way more. But their 12 first down heavily outmatches Colorados 5.
3:19-3rd and 3 and Rachaad White drops an easy first down pass from Jayden Daniels. ASU forced to punt. 
5:13-Pushed up against their own goal-line on 3rd and 11 Jayden Daniels connects with WR LV Bunkley-Shelton for 33-yards.
ASU will start on their own five-yard line after a 47-yard punt from Colorado.
7:24- ASU sacks QB Brendon Lewis on 3rd and 6. Lewis scrambled and tried to step up but was unsuccessful. 
B.J. Green is disqualified after official review for targeting. 
8:43- ASU pushes Colorado into another 3rd and long. 3rd and 14, QB Brendon Lewis pass incomplete. But penalty called on ASU for roughing the passer. Under review for targeting on B.J. Green II. 
Six rushing touchdowns for Rachaad White this season. 
Penalties might be an issue for Colorado tonight. Whites touchdown run was set up on the previous play by a roughing the passer call on an incomplete pass on 3rd-down.
9:28- Touchdown ASU. Rachaad White rushes for 11-yards to put ASU up 14-0. 
12:37-QB Jayden Daniels connects with TE Curtis Hodges for 26-yards. Daniels stood in the face of multiple pass rushers. 
Colorado has yet to score in the last 8 quarters.
12:37-Colorado attempts a 46-yard field goal. Ball is deflected. Colorado still scoreless and trails 7-0. 
13:22- QB Brendon Lewis attempts to rush to the outside on 3rd and 1. Stopped for a loss of 3-yards. 
15:00-Colorado QB Brendon Lewis hits a gap up the middle on 2nd and 9 for a 33-yard run. 
2nd Quarter
After the first quarter, Sun Devils QB Jayden Daniels is 6-for-9 for 59 yards. On the ground Daniels has rushed for 18-yards and scored a touchdown.
The Sun Devil defense has been a delight to watch so far. Colorado has struggled offensively all season but ASU has come to play and not played down to their competition. Just 36 total yards for Colorado after a quarter. 
First quarter ends with ASU leading 7-0. 
The Sun Devil run defense is looking unbreakable. Colorado has struggled to do anything on the ground. -5 yards on the ground for Colorado. 
2:44-Buffalo defense halts the ASU offense at mid-field. ASU forced to punt. 
3:40-An 11-yard run from Daniels ends in Daniels sliding but receiving a hit from a Colorado defender. Personal foul called on Colorado. 4th penalty for Colorado.
ASU earns their first penalty. Holding call on a Jayden Daniels run. Pushes ASU back 10-yards. Now 1st and 20.
So far in the game, ASU has played clean. No penalties. Colorado on the other hand has given up 25-yards on 3 penalties. 
5:12- 3rd and 14. Sun Devil defense stops Colorado again. Jordan Clark breaks up a pass from Colorado QB Brendon Lewis to force a fourth down. 
7:39- Colorado with two penalties so far in this game. Technically three but a holding call was declined. 
ASU has shown an ability to use Daniels versatility on the ground. Passing down the field has been the issue for ASU if the run game is stalled out. 
7:45-ASU QB Jayden Daniels keeps the ball on a fake hand-off and jogs into the end zone. 7-yard touchdown run for Daniels.  7-0 Sun Devils
9:30- ASU QB Jayden Daniels connects with RB Rachaad White for 12-yards and a first down.
11:18- D.J. Taylor returns the punt for 17-yards. ASU set up nicely. Will start on the Colorado 45-yard-line. 
11:45- ASU defense makes a stand! Earning their first sack of the game on 3rd and 8. Colorado forced to punt after a quick three and out. 
13:02- First drive stalls out for the Sun Devils. Punt away the ball. 
15:00-ASU receives the ball first with a 14-yard kick return from D.J. Taylor. 
Pre-Game
ASU has faced Colorado eleven times and is 8-3 against the Buffaloes. Despite having the win advantage Arizona State has not defeated Colorado since 2017. If the Sun Devils win tonight it will end Colorado's two game winning streak against ASU. 
------------------------------------------------------------------------------
The Arizona State Sun Devils will open up conference play against their PAC-12 opponent, the Colorado Buffaloes. Both teams are coming off hard losses. ASU found themselves on the other end of a 27 to 17 loss to the BYU Cougars. Aided by sixteen penalties the Sun Devils will hopefully clean up their penalty issues.
The Buffaloes will be on the outlook for a semblance of offensive production. In last weeks loss to the Minnesota Golden Gophers, Colorado was shut out 30 to nothing and has scored only two touchdowns this season.
Tonight's game kicks off at 7:30pm MST.