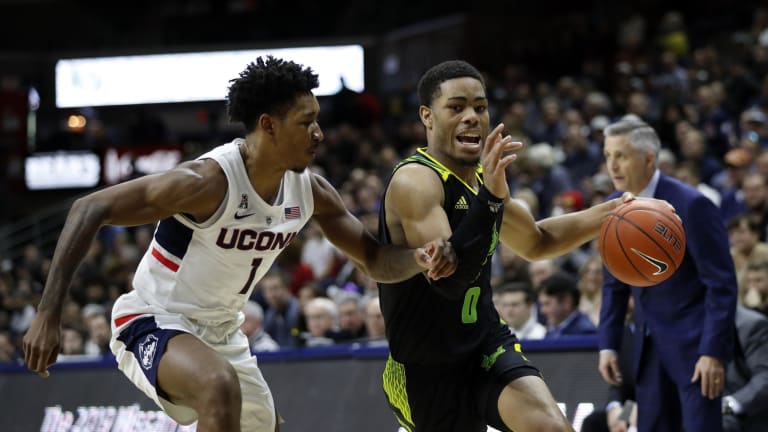 Boston College vs. USF Men's Basketball: Preview And Predictions
Eagles head on the road for their second game of the season
Boston College heads to Tampa today for their matchup against the University of South Florida Bulls. The Eagles (1-0) will look to build on Wednesday's night opening win against Wake Forest which saw Boston College open up a big lead early but allow the Deacons back in for a tight finish. 
Time: 12:00pm
Where: Yuengling Center, Tampa
TV: CBS Sports Network
Radio: WEEI 93.7
Opening Line: USF (-6.5)
Projected Starting Five: Nik Popovic, Steffon Mitchell, Derryck Thornton, Jarius Hamilton, Jay Heath
Ken Pom Rankings: Boston College (114), South Florida (91)
Key Matchup: Jay Heath vs. David Collins
This is going to be a huge game for the true freshman Jay Heath as he is going to need to shut down USF's more prolific scorer and leader on offense. The Bulls are led by David Collins, a 6-0 guard who averaged 15.9 points a game last year for the Bulls, along with 2.2 steals a game, and seems like he could be a really good matchup against an inexperienced player like Heath 
The Opponent
The South Florida Bulls (1-0) are a team looking to build off their 24 win season last year that culminated in a CBI title. In 2018-19 they showed steady improvement as they finished in the middle of the AAC pack at 8-10 in conference play led by David Collins and forward Alexis Yetna.  Coached by former Georgia Tech head coach Brian Gregory the Bulls won their only game of the season as they dismantled Arkansas-Pine Bluff 70-41 on November 5th. 
The big news for the Bulls was that they lost redshirt sophomore Alexis Yetna for the year earlier this week due to a knee injury. The forward from Paris, France was the team's leader in rebounds and double-doubles last season. This could be a huge blow for the Bulls who will now need to find someone who can contain Nik Popovic. 
Three Questions Heading Into This Game:
1. How does this young team handle playing in hostile environment? This is a big test for a team playing for the first time on the road. How will Jay Heath, CJ Felder and Julian Rishwain look on the road?
2. What is the health of the Hamilton Brothers? Both Jared and Jarius got dinged up in the last game, it sounded precautionary, but BC needs their depth. 
3. Can BC keep up their defense? BC's defense looked as good as it has ever been under Jim Christian, can they do it again against a solid team?
AJ's Prediction: Boston College 72 USF 68. Yetna's loss is huge for USF as he would have been the perfect foil for Popovic. If the Hamilton's are healthy I like BC's depth heading into this game, look for Derryck Thornton to steady a young group of players on the road.