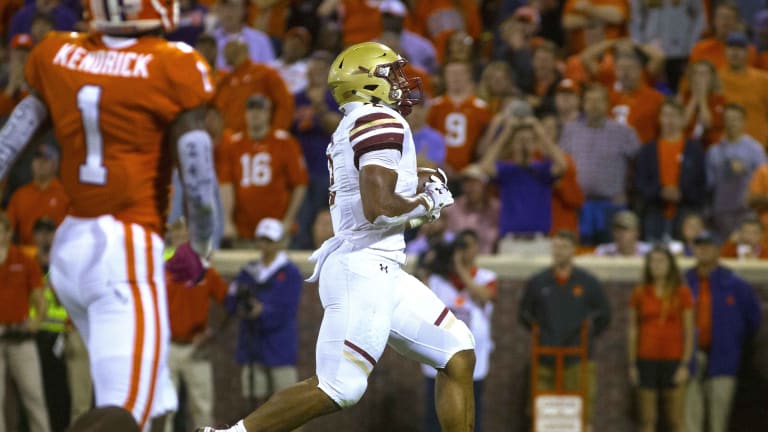 AJ Dillon Breaks BC All Time Rushing Record And Ties TD Record
Congrats to the junior
In the midst of Boston College getting destroyed by Clemson, star running back AJ Dillon broke two major records, Boston College's career rushing yards and career rushing touchdowns. This was a huge accomplishment for Dillon, and even more important because his mother was there to watch him do it. It was great that he did it tonight because on the ACC Network presentation they mentioned that she will be missing the next game. 
In the second quarter, Dillon slammed home a touchdown from 9 yards out for his 34th career touchdown, tying Keith Barnette who had 34. Dillon had already passed Andre Williams, Willie Green and Troy Stradford this season. 
Then in the 3rd quarter AJ Dillon ran a 9 yard run to pass Andre William's career yardage mark of 3,739 yards that he set in 2013. Dillon, has hit this mark only in his third year at the Heights and still has four more games at least to finish the season. Unfortunately on the next drive he lost one yard to lose the record again, which he regained later in the third quarter when he dove for two yards. 
During his time with the Eagles AJ Dillon has been a game changer, the big physical back Steve Addazio loves to have in his offense. We will all have to wait to see if Dillon will return for a senior season, or if he will head to the NFL after this year.
Congratulations to AJ Dillon on the two records!