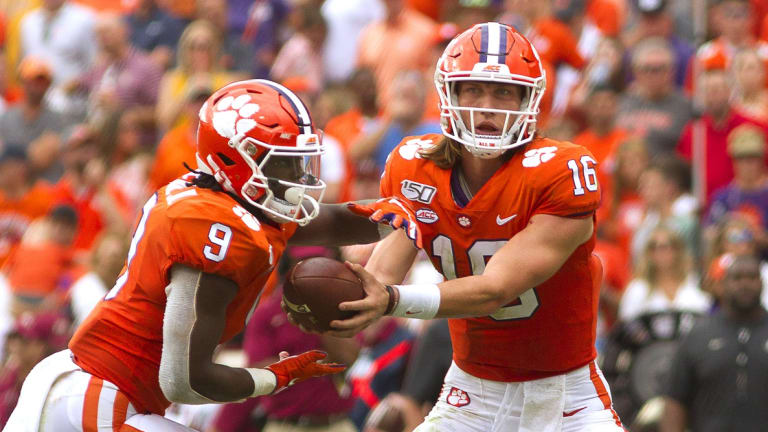 Opponent Film Notebook: Clemson Tigers (Powered By WePlayed)
What did last week's game show us about the Tigers
Tomorrow night the Boston College Eagles will take on the reigning National Champions Clemson Tigers under the lights of Memorial Stadium. To help better prepare for the game I watched last week's game against Louisville to preview what Dabo Swinney's team does well and where there may be flaws. Here are some of my notes, you can check out the game film yourself and make your own highlights by clicking here. 
* Trevor Lawrence is every bit as talented as you would expect, but he didn't play a perfect game against Louisville. He made two errors in this game, one interception he tried too hard to thread into double coverage, and another one that the wide receiver got knocked down but still was not a good read. That being said he is incredibly good at hitting his spots, and seemed to get better as the game went on. 
*Lawrence is a sneaky good running quarterback. While he isn't a "fast" mobile quarterback, he is smart and can tuck it and run either on zone read options or designed runs. BC has struggled in the past against QB's who can throw it, his mobility could be a huge issue. 
* Even when Lawrence takes a chance he has an incredibly deep stable of wide receiver who are gifted with good hands, solid speed and run a great route and can help him out. The play of the first half against Louisville was a heave into the end zone by Lawrence that Justyn Ross incredibly got up and came down with it. Both guys did what they needed to do, and it was an absolute backbreaker for Louisville. 
* Travis Etienne is the best running back the Eagles have played all year, and he may be one of the best in the country. Averaging 8 yards a clip, he is a complete back who has the speed, vision and acceleration unlike any back Boston College has seen. He is strong and if BC is sloppy with arm tackles he will break long runs. He was incredible to watch, exploding out of his cuts and hitting the second level. With rain in the forecast, he could be the key to this game. 
* Clemson's secondary is really, really good. Evan Conley and Micale Cunningham struggled to make passes and took sacks, mostly because their VERY talented wide receivers were blanketed. 
* If you are going to run at Clemson you have to just run straight at them. Louisville found some luck early going straight at them, but whenever they tried going to the edge, Clemson would kill them with elite speed who would immediately swarm to the ball. While the Tigers may not have the names you may remember players like Nyles Pickney, and Tyler Davis are names you may want to remember.
* Brett Venable's defenses are fascinating to watch because he can throw a ton of different looks at an offense and keep them guessing. As mentioned before he can use his defensive backs to lock down wide receivers, but in the next throw an all out blitz and sack the QB on both plays. Dennis Grosel is going to have to react quickly or he will find the same fate as Cunningham and Conley