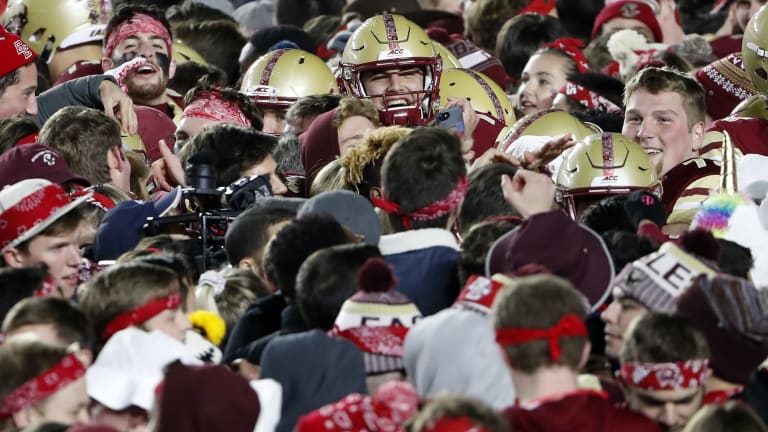 Red Bandana Game Against Florida State Scheduled For Noon
Early start for next week's game
Boston College's annual Red Bandana Game will be next week November 9th against the Florida State Seminoles. This year's game time was announced by the conference yesterday, and it will be a noon kickoff and aired on the ACC Network. 
For those that are unaware, the Red Bandana Game is an annual event in which the Boston College football program celebrates the life of Boston College graduate Welles Crowther, a hero of 9/11 who lost his life saving people trapped in the World Trade Center. The people who he helped escape remembered him by his trademark red bandana he wore, and since 2014 when Boston College defeated then ranked USC, it has become a tradition for the program to honor him. 
This will be the first Red Bandana Game that will not be played as a night game, which in the past has allowed it to get more exposure on bigger network television broadcasts. Now we have to acknowledge that there are factors greater than Boston College that forced this game into a less than optimal slot, networks and the ACC make those decisions and dictate them to the schools. But Boston College wouldn't be in this slot if they just scheduled their Red Bandana game for whichever game is closest to 9/11, which this year would have been Kansas at night. 
The argument many have made for scheduling the Red Bandana Game against Florida State is that the belief that the Seminoles were predicted to be a solid top of the ACC team this year, and that matchup would attract more eyeballs. More interest would increase the odds the ACC would give BC the primetime slot, and there more people could hear Welles's incredible story. Which is understandable, but that didn't happen this year. Instead the game is now in November and BC/FSU is not an attractive game for networks and has been relegated to a slot that will not optimize the amount of people who can watch and see Welles's story again. And that is a shame, his story deserves to be heard every year.  

In the future, let's just make this simple. Keep the Red Bandana Game around 9/11, regardless of opponent, and make this more about remembering Welles for his sacrifice then optimizing it for a television audience. Next year it will be the Ohio Bobcats, a MAC opponent who will come to the Heights on 9/12. Hopefully we will see Boston College fly out of the tunnel in their Red Bandana uniforms to a crowd that will be waving their Red Bandanas and remembering an Eagle who truly was a man for others.