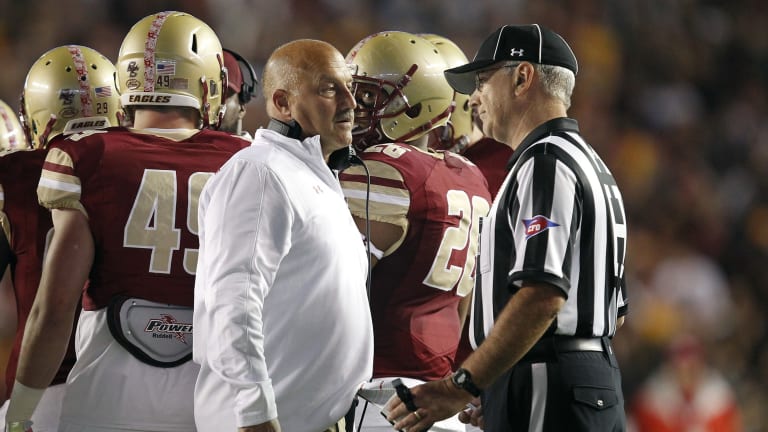 Steve Addazio Already Has Ties To Rutgers Position Coach
One member of the Rutgers coaching staff has previous ties to Steve Addazio.
If head coach Steve Addazio is a sudden candidate for the Rutgers head coaching job, then he may already have one supporter on the Rutgers coaching staff.
According to an article by Julian Benbow of the Boston Globe, Addazio's name has been among the favorites of suggestions by New Jersey high school coaches being polled by the Rutgers athletic department.
Addazio, a seasoned recruiter of New Jersey talent, has strong ties with a number of high school coaches in the Garden State. These connections would figure to be a strong asset for the recruitment aspect of his candidacy.
Not only does he boast a strong recruitment network, but he also has at least one connection to a key member already on the Rutgers coaching staff, one with stronger ties in New Englande than New Jersey.
Rutgers offensive line coach Peter Rossomando was once a head coach himself. From 2014-2018, he served as the head coach at Central Connecticut, Addazio's alma mater.
Addazio stayed connected to the program as an alumni, and offered guidance to Rossomando in his first year as a head coach. This Guidance helped Rossomando lead the Blue Devils to winning records in the last two years of his tenure, before landing the Rutgers job this season.
"I had some interactions with [Addazio]," Rossomando said in the week leading up to the Rutgers vs. Boston College game back in September. "Mostly about football, programming, things like that. How we could improve Central Connecticut and take them to the next level. As an alumni he was helping us out with that."
The two even specialize in the same position as esteemed offensive line minds. If they were to share the same staff, then their working relationship would be a critical one in the coaching of one of the team's most important units.
"I respect Steve a lot," Rossomando said. "He's a heck of an offensive line coach. If you're in this business as a line coach then you're always looking for guys that do a really good job and he always has … he's been a lot of places and does an excellent job so I have a lot of respect for him."
If Addazio is the next Rutgers head coach and retains Rossomando as offensive line coach, it will be the first time the two have ever worked on the same staff. Just as Addazio helped Rossomando grow accustomed to his previous coaching job, perhaps Rossomando could return the favor if that is the direction Rutgers athletic director Pat Hobbs chooses to go.