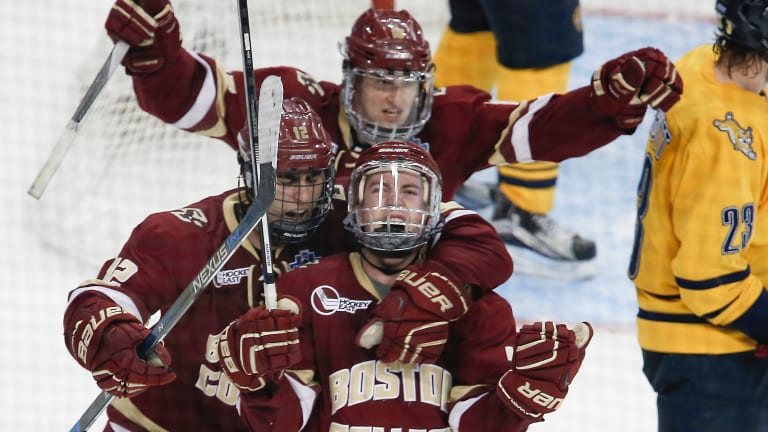 Top Ten College Hockey Arenas to Visit
Old Barns and New Complexes Highlight the List
Lead photo courtesy of BCEagles.com
One thing I love about baseball is that each field has its own unique charm. From the Green Monster at Fenway to McCovey Cove in San Francisco and even the old hill in Houston, each ballpark has something that makes it stand out from other parks.
You may have read that paragraph and may be wondering if I put the wrong title in for this article. However, this does connect to why I'm writing about college hockey arenas. NHL arenas are cookie-cutter, but college hockey rinks have that variety that I love about baseball fields. Some are old-school barns, others massive three-bowl arenas. The smallest arena holds under 1,000, the largest over 17,000. That got me thinking: what would be the ten college hockey rinks on my must-visit bucket list. Before we begin, I've been to these five arenas already:
Conte Forum, Boston College
Agganis Arena, Boston University
TD Bank Sports Center, Quinnipiac
Bright Hockey Center, Harvard
Gutterson Fieldhouse, Vermont
So I'm leaving them off the list. But I would recommend visiting Vermont and Quinnipiac. There may be no better example of the old-school, new-school clash among college hockey arenas than with these two. In South Burlington, the Gut only has wooden bleachers and doesn't have a video board. You have to walk under the bleachers to get to the concessions area, and you basically walk through the locker room tunnels to get to your seats. Quinnipiac's sports center is made of concrete, with only stadium seats. It also has yellow industrial beams that arch above the scoreboard and fit the team's color scheme nicely. Harvard, BU and BC all have nice rinks too, but Vermont and Quinnipiac stood out. Now, without further ado, from the remaining 55 teams in the nation, here are the 10 arenas that I'd like to visit.
Unnamed Arizona State Arena - I'm not talking about Oceanside Ice Arena, the Sun Devils current home which holds a meager 840 people. ASU splits time between this tiny rink and the Coyotes Gila River Arena, but the team should be moving into a new arena near the school's basketball facility by the 2022-23 season. I haven't seen any renderings of the inside, but the Sun Devils have done everything right since joining D1 college hockey, so I trust them to produce a quality arena for the burgeoning program.
Matthews Arena, Northeastern - From an unbuilt arena, we pull a full 180 and go next to the oldest ice hockey arena still in use in the world. This is the next arena I'll cross off my list (I'll be there February 20th), but for now it's still on this list. There's nothing flashy about Matthews, but it is rich in history. The first NHL game in the United States and the first Celtics game took place here.
Yost Ice Arena, Michigan - This was arguably the biggest surprise when I was looking through the list of teams' rinks. I had no idea Michigan played in such a beautiful arena. There's a wide variety of seating, from bleacher-style in the lower bowl to overhanging sections of stadium seating. There is also one long level of bleachers on both ends of the ice. The best feature is by far the arched glass windows that wrap around the whole rink. It looks like a great view to sit on the glass behind a goal, so that you can gaze up at the larger panes of glass behind the opposite goal.
Broadmoor World Arena, Colorado College - I really wanted to put Denver on this list, because the arena atmosphere looked electric when BC traveled out there for two games in October. When I was scrolling through message boards looking for arena info, however, I learned that this wasn't the case, as I saw in multiple places that the Pioneers were having attendance issues. Instead, we'll stay in state by going to Colorado College's Broadmoor World Arena. Like Matthews, there is plenty of history here, even though most of it took place in the older iteration that closed down in 1994. Particularly, the arena hosted the first ten NCAA Hockey Championships. I know this might be cheating, but, speaking of the old arena, if I could go back in time, I'd love to have visited that rink. The pictures of the outside, right on a lake, are absolutely breath-taking, and apparently the interior had red aisle carpeting and wildlife paintings. The new one isn't half bad either, and it's part of a larger facility that includes both an NHL-size rink and an Olympic-size rink.
Carlson Center, Alaska-Fairbanks - I had to pick one of the Alaska schools, not because either arena is particularly great, but because it'd be quite the adventure to go see a game in Alaska. I went back and forth between Anchorage and Fairbanks before ultimately deciding on the latter after realizing that I was looking at dated information and that Alaska-Anchorage recently downsized to an on-campus rink with a capacity of under 1,000. Alaska-Fairbanks plays in an arena with mostly blue seats and a few yellow ones interspersed, matching the team's color scheme. They also have a neat piece of art hanging from the wall behind one of the goals.
Von Braun Center, Alabama-Huntsville - The Chargers have the biggest arena in the WCHA, seating over 6,000. I'd have to imagine they don't sell out that often or even come close, as they're just 55-230-22 over the last decade. Nevertheless, the arena is pretty cool; my favorite feature is the seating that arches upwards in the second level. For a hockey rink, I like it. For this team, one that averages 25 percent of capacity, the design, which adds a bunch of seats, probably wasn't the best move. Another interesting feature is the lower bowl, which is set back from the glass. It initially appeared to me as if there were no seats up on the glass, but it turns out that this isn't the case. There is a single row of high-top stools and tables for guests that sit up close. Lastly, I kind of want to go just for the uniqueness aspect surrounding the team. Before Arizona State came along, this was the team that was the outlier on the college hockey map. There'd be 60 teams clustered in the northeast and midwest and then one singular star on the map sticking out down south.
Ingalls Rink, Yale - Affectionately nicknamed the Yale Whale for its distinctive shape, this rink has been dubbed the most beautiful rink in the world by Wired. The designers chose to inject plenty of personality into this rink, because it was so far from campus that they needed to attract students. The curved roof is what really makes Ingalls stand out. The rink also has glass windows to let in natural light behind the goals, as well as the upward arch of the seats, similar to the Von Braun Center.
Hobey Baker Memorial Rink, Princeton - Inside, this rink is architecturally beautiful. I would never put it anywhere close to the same level as Duke's Cameron Indoor Stadium, but they do share some similarities. Particularly, I'm thinking of the stone walls that surround the rink, which makes it look and feel almost like a cathedral.
Ralph Engelstad Arena, North Dakota - This is one that came recommended to me. During my interview with Aapeli Rasanen (story on that to come) he told me Ralph Engelstad was hands-down the best place he played when he was there with the Finland U-18 team in 2016. In terms of atmosphere, there may be no better than the Ralph. UND's arena holds over 11,000, and the team regularly fills it to capacity. Think Conte, but bigger and full every night. The building was opened in 2001, and, according to the team website, it has exceeded capacity a staggering 168 times since then. The arena is nice, but the selling point is those UND fans. As an added bonus, unlike some of the other teams whose arenas I've included, if BC were to travel out to North Dakota at some point, there is a decent chance that it'll be a matchup between two of the top 10 teams in the nation.
Alfond Arena, Maine - Maine just does it right. Over the summer I wrote about the best college hockey uniforms and put Maine at the top. Even though these rankings aren't ordered, I can say that I'm saving the best for last with Alfond. Boston College fans will look fondly upon the rink; from the exterior, it can be mistaken for the Plex. I'd assume the in-game atmosphere is a lot like the Gut, because it's all these folks have for local sports. The difference, though, is that the Black Bears have enjoyed some historical success compared to their counterparts in Vermont. Alfond may have to be a bucket-list trip next season when BC heads up to Orono. Honestly, the only reason I haven't been yet is that it's in the middle of nowhere. Trust me, I spend my summers in southern Maine and consider Portland the northern border of Maine. Alfond Arena is a full two hours north of that.