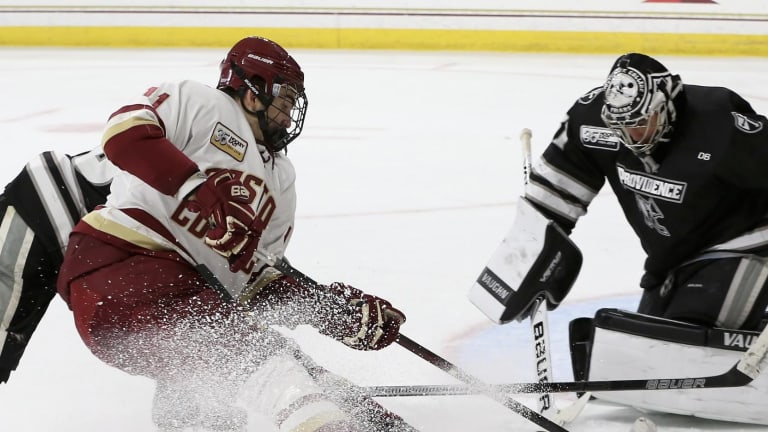 Boston College vs. Providence: Previewing This Weekend's Matchup
The Eagles beat the Friars four times last season
Photo by BCEagles.com
After a disappointing weekend sweep against No. 1 Denver, Boston College returns home to begin its conference schedule against Providence.
There were many positive takeaways for the Eagles from the weekend in Denver, despite coming away empty-handed in the win column. BC hung with Denver in both games, one a defensive showdown and the other an offensive outburst.
The Pioneers won the first game 3-0, but the final two were empty-netters. Spencer Knight looked sharp, turning away 30 of 31 shots he faced, only allowing Cole Guttman to finish off a rebound while BC was in the midst of killing off a five-minute major. The Eagles generated chances in the third but couldn't get one by Magnus Chrona.
Saturday night, it was the offense's turn to show it could hang with the top-ranked team in the country. The Eagles surrendered 3 goals in the first five minutes of the second and trailed 5-2 entering the third. They clawed back to make it 5-4, but a late power play goal by Bobby Brink secured the weekend sweep.
Logan Hutsko's absence was certainly felt in the Mile High City. The first line right wing traveled with the team but missed both games, forcing both Aapeli Rasanen and Marc McLaughlin into first line roles. However, secondary scoring, one of BC's biggest concerns coming into the season, came through in a big way during the second game, as all four goal were scored by players who weren't on the top line. Three freshmen, Alex Newhook, Drew Helleson and Mike Hardman, were among the goal-scorers. They joined Marshall Warren and Matt Boldy as players who've recorded their first collegiate goal through BC's first four games.
Providence, one of the few Hockey East teams to play a conference game so far, sits at 3-1, with an overtime loss to Holy Cross serving as the only blemish to start the season.
The Friars kicked the season off with a 7-0 thumping of Maine. They also boast 6-0 and 4-2 victories over St. Lawrence and Clarkson, respectively. From a pure metrics standpoint, Providence presents a test for BC, entering as both a top five team in scoring offense and scoring defense. Yet, the numbers should be taken with a grain of salt, as the Friars haven't exactly had the toughest road to start the season. Maine did upset No. 8 Quinnipiac on the road, but the Black Bears are a consensus bottom-tier Hockey East team. Clarkson is a fringe tournament team who was 2-0-1 prior to the loss against Providence, but hasn't exactly looked dominant in wins over Michigan and Vermont.
These two teams are very familiar with one another, having faced off six times last season. Providence was a tournament team last season, but the Eagles had the Friars number, beating them four times, including winning the opening round of the Hockey East Tournament in a best-of-three series at Schneider Arena.
Like BC, and many other Hockey East teams, Providence entered the season having to replace a long-tenured net-minder. Senior Hayden Hawkey departed after improving each of his four seasons for the Friars, peaking last season with a 1.90 goals against average. While BC found their goaltender replacement in Knight, Providence went with a graduate transfer, Michael Lackey from Harvard. Lackey played 26 games for the Crimson last season, posting a 2.34 goals against average.
Aside from Hawkey, Providence lost a lot offensively in the offseason. Four of the Friars top five scoring forwards from last season are gone. The burden to replace a talented offensive group was expected to fall on sophomores Jack Dugan and Tyce Thompson, and both have excelled to start the season, combining for 17 points over Providence's four games. Former BC commit Patrick Moynihan is also expected to contribute to a young forward group for Providence. The freshman from Millis, Boldy's hometown, was selected in the sixth round of the 2019 NHL Draft and has four points so far for the Friars.
Defensively, Providence is more experienced. Senior Spenser Young and sophomore Michael Callahan captain the team, and junior Ben Mirageas was a third round selection in 2017. Lackey will likely play closer to his three-year average at Harvard as the season progresses, putting the onus on the experienced blue line to keep pucks away from goal.
The game is scheduled for 7 o'clock Friday night and can be seen on NESN Plus.
Around Hockey East:
Maine split a weekend series at No. 8 Quinnipiac. Eduards Tralmaks is tied with Cole Caufield for the nation's lead in goals with 6.
Most teams kick off their Hockey East slates this weekend, but UMass and Northeastern both face non-conference opponents that made the tournament. UMass hosts AIC and Northeastern travels to St. Cloud State for two.
It was a tough non-conference week for Hockey East:

BC was swept by No. 1 Denver
Boston University lost to Northern Michigan
UMass Lowell went winless in two against Colgate
Northeastern needed OT against Holy Cross
New Hampshire lost to Bentley