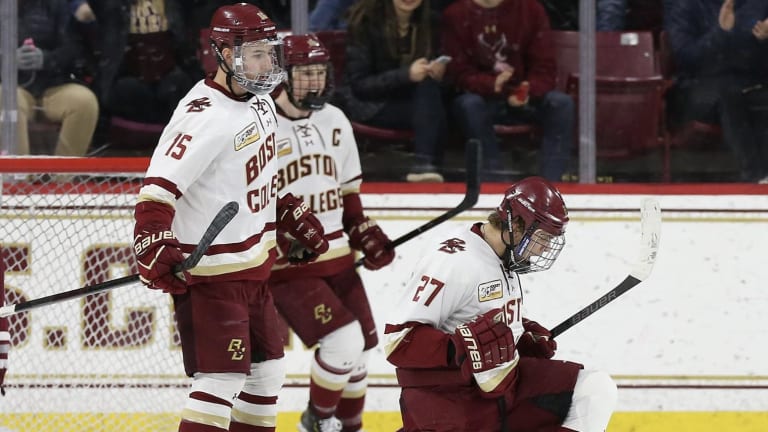 Five Observations from BC's First Five Games
The Eagles are currently No. 15 in the nation
Photo Courtesy of BCEagles.com
Five games into the season, Boston College sits at 2-3, not a bad record given the quality of competition and the much-talked-about early-season struggles of years past. BC outpaced Wisconsin's high-powered offense in the season opener and blanked Colgate 3-0 in the program's first road game of the season.
Since then, though, the Eagles have suffered through a three-game losing streak. The first two losses came at No. 1 Denver, not a surprising result, but there were positives to take away, as BC hung with the Pioneers for the majority of of both games. Then came the most recent, and most disheartening, loss, a 6-2 thumping at the hands of Providence. The Friars out-played the Eagles in all facets of the game and had an answer whenever BC attempted to claw back into the game.
While five games is a small sample size in terms of dictating the success of the rest of the season, it's certainly offered a look into areas where the Eagles have excelled and others where they've fallen short. Let's take a look at five things that have stuck out through BC's first five games.

The first line is still among the best in the nation 
Eagles fans received great news when David Cotton and Logan Hutsko decided to return to the Heights for the 2019-20 season. Paired with center Julius Mattila, the trio almost single-handily powered BC to an NCAA Tournament berth last season. It's very rare in college hockey to have a top line as talented as BC's, and to have the whole line return for a second season together. Think of Gaudette, Sikura and Stevens for Northeastern. The three were dominant during the 2017-18 season but really only had one good year together. The early returns on BC's top line have been favorable. Cotton and Mattila each have eight points, five more than anyone else on the roster through five games. Hutsko has only played three games, as he missed the Denver series due to injury, but he has managed to get on the score sheet in every game he has played, highlighted by a top-shelf, bad-angle goal against Providence.
Secondary scoring shouldn't be as big an issue this season
Take it from Boston's professional hockey team: it's possible to win with one really good line. Once Cotton, Mattila and Hutsko were put together early last season, that seemed to be the strategy the Eagles rolled with. But this season, the scoring depth is much more evident. Start with the second line. While Matt Boldy, Alex Newhook and Graham McPhee each have only one point, they have consistently generated chances. Boldy has become BC's best face-off man outside of Mattila, winning 55 percent of his draws. Newhook has shown blazing speed and an instant connection with Boldy. He's a bit undersized, but Coach York hasn't hesitated to put Newhook out on the penalty kill.; he's defensively-responsible and uses his speed to generate short-handed chances. Playing with the two talented freshmen, McPhee, the elder statesman on the line, appears primed from a bounce-back season. He had a career-high 24 points during his sophomore campaign, but that number fell to 9 last season. The third line is shaping up to be the Eagles best shutdown line, but there is some scoring touch there as well. Jack McBain excels as a playmaker, Marc McLaughlin can get to the dirty areas and Mike Hardman scored more goals than Newhook last season in the BCHL. Fourth line center Aapeli Rasanen has also contributed offensively when called upon, particularly on the power play.
Spencer Knight is as advertised
Outside of a five minute stretch in Denver, BC's highly-touted goalie recruit has been on his game to start the season. Knight turned away all 39 shots he faced to record his first collegiate shutout against Colgate and only allowed one in his first game against top-ranked Denver. While he did yield six against Providence, and surely there were a few he'd like to have back, Knight played well against a Friars team that generated good enough chances to merit 8 or 9 goals. Plus, on two of the goals, Knight was in position, but Providence's shooters just picked the corners.
Undisciplined play has burnt the Eagles
A consistent element that has been paired with BC's recent string of sub-par seasons has been the inability to stay out of the box. The Eagles have been assessed three game misconducts on the young season and have taken penalties at inopportune times. Down 5-4 against Denver, BC was set to pull Knight when Ron Greco took a roughing call that effectively killed the potential for a 6-on-5 opportunity to close the game. Similarly, against Providence, soon after Hutsko cut the deficit to one, Greco was given a game misconduct for interference. On the ensuing kill, Cotton was whistled for hooking. The five-on-three advantage allowed the Friars to bring the lead back up to two and regain momentum. The sheer volume of penalties coupled with a league worst penalty kill rate of 74.1 percent is arguably the biggest concern for the Eagles after the first handful of games.
The defense is a work in progress
The defensive pairings have remained consistent through BC's first five games. Jesper Mattila and Ben Finkelstein have anchored BC's top defensive pairing, while Luke McInnis has been paired with Drew Helleson and Connor Moore with Marshall Warren. Michael Karow has served as the seventh defenseman, a strategy Coach York said he will employ for the foreseeable future. Finkelstein and Mattila have been the Eagles best pairing, posting a combined plus-7 in the win over Wisconsin and a plus-4 in the loss to Providence. The questions come after the top two. The two freshmen Warren and Helleson have both had their moments, but they're still prone to rookie mistakes, particularly with Warren. He's an explosive offensive player, probably BC's best on the blue line, but he can be a bit too over-aggressive. As a unit, the defense has struggled with clears and positioning. Turnovers and missed assignments have contributed to Knight facing a lot of high-percentage shots so far. Breaking up Mattila and Finkelstein to more evenly disperse the defensive talent may benefit BC. A more radical strategy could be pairing Warren and Helleson. Yes they're inexperienced, but they have all the makings of a perfect defensive pairing, with Helleson's shutdown game and Warren's offensive upside.